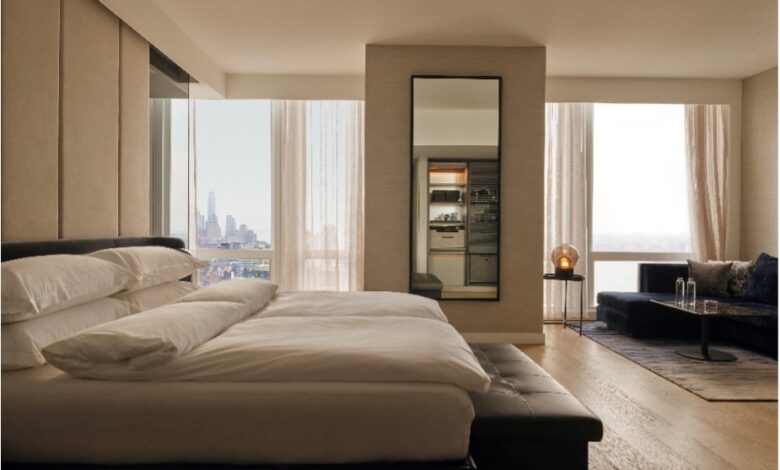 Stories
What a Luxury Sleep Program Looks Like with Equinox Hotel New York
By Larry and Adam Mogelonsky | November 10, 2023
Sleep is increasingly being studied and proclaimed as a core pillar for health, cognition and longevity. Travel always seems to get in the way of a good night's sleep, though. Luckily, hotels are responding to the rise of sleep tourism with incredible new offerings to help guests get the most of their time aboard.
But while a sleep program can mean many things to many people, what does this look like at a luxury, urban hotel? For this, there was no better property to stay at and study than the Equinox Hotel New York which was just recently named as one of the 50 best hotels in the world by Forbes. Having experienced the full depth of the brand's unrivaled sleep program, we can start by saying that it always comes down to the attention to detail at every level. To complete this article, it was a delight to speak with Equinox CEO Chris Norton during our time in the Big Apple to help us understand the process behind this property's inception and its focus on sleep.
A Leader in Lifestyle and Luxury
To set the mood, some background on this luxury property is first required. The Equinox Hotel New York opened in July 2019 with 212 rooms and suites as part of the multi-billion-dollar Hudson Yards real estate development. Described as a city within the city, all the gleaming, ultramodern towers have been built on top of the railyards leading into Penn Station, with the Equinox Hotel right across the street from the iconic Vessel art installation, The Shops at Hudson Yards and The Shed, an eight-story art center.
As the first hotel property for parent company Equinox Group, the Equinox Hotel New York is the culmination of three decades of growth for the brand which opened its first high-end fitness club in the Upper West Side in 1991 and, amongst other projects, launched SoulCycle in 2006. Expanding into luxury hospitality was a natural extension, but it nevertheless required an astute vision for how travel behavior is evolving and the emergence of the lifestyle hotel category.
Traditional luxury will always have its place, but the lifestyle movement within this segment touches on a profound and wholly 21st-century evolution in that luxury now transcends demographics. Travelers are actively seeking hotel brands whose identities and values are in harmony with their own personal beliefs, with the inception for Equinox Hotels coming about through the recognition that many people of all ages want to maintain their healthy lifestyle while traveling, codified as high performance living.
This is reflected by the guestroom amenities such as the Art + Science of Sleep program; by the immediate access to the fitness club, Equinox Hudson Yards; by the bevy of nutritious food options provided by the onsite restaurant, Electric Lemon; and by having a world-class onsite wellness center, The Spa by Equinox Hotels.
"Equinox Hotels redefines luxury hospitality for those who embrace high-performance living," commented Norton. "Our concept of luxury transcends the white glove grandeur of the past, focusing on meaningful details and a seamless guest experience. Rooted in the pillars of movement, nutrition, regeneration and community, our modern hospitality offering infuses every stay with purpose. As a luxury hotel, a place intended for rest and rejuvenation, we recognize the profound impact of travel on sleep, a fundamental element of wellbeing. Our guestrooms and sleep program have been developed alongside sleep scientists, offering a science-backed approach that optimizes rest so every guest can get their best night's sleep."
The Art + Science of Sleep in Focus
Until recently, sleep was often treated as auxiliary to good health when compared to diet and exercise. But as more and more research in the past decade in the field of sleep science has revealed, it is now widely known that sleep plays an essential role in cognition, mood, bodily fatigue, appetite and immune system functionality. While we all like traveling, the combination of jetlag, grueling hours spent in transit, the unease of being away from home and the ambient noise of a bustling metropolis like New York can all lead to poor sleep quality.
Embracing the design mantra of 'dark, quiet and cool', the finishings and furnishings inscribed by the Art + Science of Sleep program at the Equinox Hotel New York are thoughtfully designed to transform each guestroom into a veritable sleep chamber by incorporating all the latest sleep hygiene practices so that all guests are guaranteed a fantastic night's rest.
As aforementioned, it's all in the details, and here are some that make this program truly exceptional:
Light-absorbent and sound-dampening materials such as black marble, dark woods and stylish insulating wall panels
Special linens and bedding materials made from toxin-free materials and designed to dissipate bodily heat during sleep and reduce moisture residues
Best-in-class HVAC and synchronized smart thermostats to accurately modulate ambient temperature without any noise
Blackout curtains precisely measured to fit each window frame and block out all exterior light
Circadian-adjusted lighting such as the stylish amber-hued bedside lamp and ground-level strip lighting built into the bedframe with motion sensor activation
One-touch dimming and 'lights out' mode buttons adjoining the bed for intuitive room controls
A smart television with a simplified remote for easy access to the bespoke AM/PM Rituals, constituting time-adjusted, on-demand yoga instructions to reset the body in the morning then calm it back down in the evening
Custom bathroom amenities by Grown Alchemist, made with natural ingredients to help soothe the skin and relax the body
A full reimagination to the entire minibar and coffee service amenities dubbed the RoomBar (more on this in a moment)
And as the literal cherry on top, turndown service includes two dark chocolate-covered tart cherries – one of the few foods that's a natural source of exogenous melatonin, the brain's own sleep hormone – delivered under a dapper smoking cloche dome.
The RoomBar Redefines What the Minibar Can Do
The two of us have long preached the need for a contemporary rethink of the minibar, both as a profit center and as a way to further propel the hotel's branding. Gone are the days where a refrigerator only stocked with mainstays like canned Coca-Cola and one-ounce bottles of Smirnoff will cut it. There's no identity here and nothing that will reinforce the authenticity of the guest experience. Fashioned as the RoomBar, this amenity at the Equinox Hotel New York serves as a quintessential example of how a property can imbue even more lifestyle elements in the room.
Some highlights of the RoomBar that caught our eye include:
In lieu of basic milk or cream, the Nespresso coffeemaker comes with a collagen powder-infused coconut creamer
For caffeinated and herbal teas, rather than sort the selection by specific ingredients, these are named according to purpose with Power Up, Recover, Regenerate and Power Down
Bolstering the high-performance living mantra are exercise accessories like a foam roller, massage ball and small gym bag
A full array of 80+ health-conscious products for purchase such as functional snacks, niche brand green juices and vitamin packs, all neatly laid out for easy browsing
While the health and exercise focus here likely won't be the best approach for any other brand, the lesson for all hoteliers is that the minibar should be a 'reason to visit' in its own right. Rather than just being a nondescript amenity, the RoomBar is a feature that guests take their time to explore and appreciate, in the process introducing guests to new ways to live healthier back at home.
Combined with the spa, the restaurant and, yes, the fitness club, the Equinox Hotel New York is a genuine urban wellness hotel and an oasis amongst the hustle and bustle of Manhattan. Outside of this property, Equinox Group has plans to build new hotels in several other alpha-tier cities in the coming years, so be on the lookout for announcements to that effect as you think about how to elevate your own sleep program.