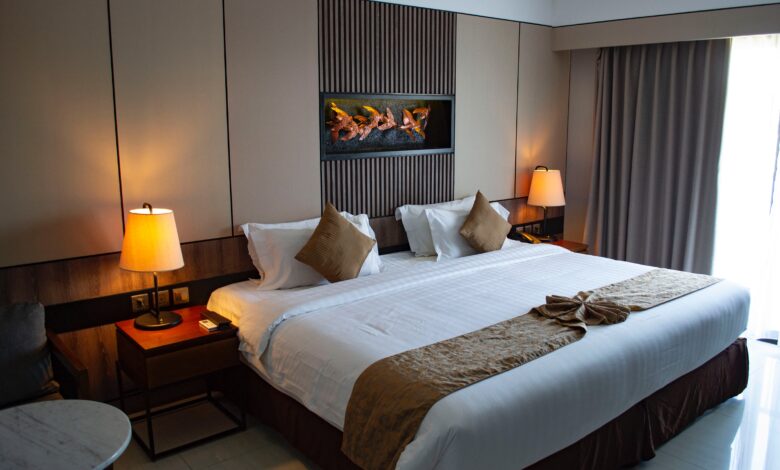 Stories
Hotel Sleep Tech is All About the Bed
By Larry and Adam Mogelonsky | August 3, 2023
It's said that the average person spends a third of their life in bed, so wouldn't it make sense to optimize this time by getting the best sleep experience possible?
When framed this way, the answer may seem obvious. But most of us don't yet view bedding in the same luxury limelight as cars, clothing or jewelry – goods that we spend far less actual time inhabiting than our beds. Nor do we view mattresses and their bedframes as 'smart' devices.
But as sleep science gains in popularity, these behavioral gaps present a hugely lucrative opportunity for hotel brands to provide guests with a far better sleeping experience than they would ever dream of getting at home – and then charging appropriately for it – by deploying the cutting edge in sleep tech.
While the design of a sleep-friendly guestroom can integrate many different features and amenities, we're focusing specifically on the bed because of how fundamental the physical mattress is for everyone's life and thus for the overall hotel experience. No doubt many of you, like the two of us, have suffered from poor sleep at times, so beyond examining the latest advancements in bedding appliances our hope is that this article also inspires you to think more deeply about how you sleep in order to feel refreshed while traveling and at home.
Why Focus on Sleep Right Now
Looking back at the history of hospitality, the provision of a good night's sleep is nothing new. It is a core facet of hotel operations because, on a deeply emotional level, if a guest does not sleep well at your hotel they are unlikely to return, while your TripAdvisor score may also suffer.
Nor is the notion of upgrading a hotel's guestroom beds a novel concept; just look back at the success of Westin's Heavenly Bed program first introduced in 1999. More recently, sleep tourism has become its own thing wherein travelers specifically seek out hotels for their restorative sleep programs. Rosewood Hotels & Resorts has its Alchemy of Sleep experiences; Park Hyatt has debuted a 'sleep suites' product tier; Six Senses offers multi-night sleep wellness packages; and Sonesta is rolling out its Rest & Renew Sleep Program brand-wide.
So, what's the craze all about? Or, more explicitly, why should your hotel brand prioritize an investment in sleep-friendly design and technologically advanced mattresses and bedding appliances ahead of all the other possible ventures out there?
Here are some converging factors:
Sleep science has gone mainstream, with plenty of recent research indicating just how critical good sleep is for bodily restoration, cognition, fat loss and the immune system.
Awareness for the benefits of sleep efficiency and high-quality sleep has also gone mainstream, with people of all walks of life now possessing a basic understanding of terms like deep sleep, REM, sleep hygiene, circadian rhythm and melatonin.
Fueling this mainstream awareness is the growth of the wellness and longevity industries, wherein the pursuit of good sleep is a foremost goal to aid in antiaging and overall wellbeing.
The pandemic threw a lot of people off their natural sleep cycles for various reasons, with many now prioritizing healthy sleep hygiene in this post-pandemic era of work-life balance while others are more conscious of air purification techniques used by hotel rooms.
Chasing the demand for quality sleep while traveling, many hotels beyond just the few mentioned above have already deployed upgraded sleep programs, turning this specific area into an arms race wherein only the cutting edge will now be effective at winning market share.
To dwell on the last point about demand, the return on an investment in sleep programming can be broken down as follows:
At the base level, ensuring that guests get the best sleep possible protects a hotel brand from guest churn and boosts loyalty.
A new sleep program can be used as part of a marketing campaign to increase product awareness and drive customer acquisition.
Given how meaningful quality sleep is for travelers nowadays, room upgrades in this direction can strongly justify increases in nightly rate, either across the board for all guestrooms or by carving out new sleep-friendly room categories that can be packaged, upsold and used in error recovery situations.
As a central pillar within the broader banner that is wellness, the introduction of an advanced sleep program can help a brand to pivot deeper into the wellness space in order to capitalize upon a series of alternate revenue streams in the future.
How Beds Can Improve Sleep Quality
We all know that old mattresses that sag in the middle or have lumps can negatively affect sleep by contorting the body into an uncomfortable position, thereby increasing the time it takes to fall asleep, causing interruptive wakefulness during sleep as the body reorients itself and perpetuating lower back pain. But another aspect influencing sleep quality that isn't as widely understood is the bed microclimate created from the body's heat between the sheets, the comforter and the mattress.
A critical property of moisture is that water residues allow microbes and dust mites (or even bedbugs!) to flourish on pillows, comforters, duvets and mattresses. This then impacts air quality – and potentially introduces allergens into the environment – around the bed to further weaken sleep. Over the long-term, moisture also hastens the deterioration of the mattress.
Given the positive correlation between enhanced climate control and sleep quality, installing a smart thermostat in the room would be a worthwhile first step to bring the guestroom to a cooler, optimal temperature for sleep (and also helping reduce energy costs when the room is unoccupied). But ambient temperature doesn't necessarily help modulate the bed microclimate under all those linens and a thick duvet. More site-specific controls within the bed are needed to successfully market a guarantee of improved sleep to guests.
Ultimately, we see sleep tech as a positive for any hotel, but especially for the luxury wellness traveler. The guarantee of getting a proper sleep while traveling is something that people are willing to pay for – especially at the luxury end of the market – and it is an aspect of the guestroom experience that customers are now specifically looking for when selecting their hotels. The pursuit of the best sleep and the bed possible as enhanced by new technologies is an arms race that will inevitably seep through all hotels in all market segments, so best to get ahead of the curve while you still can.