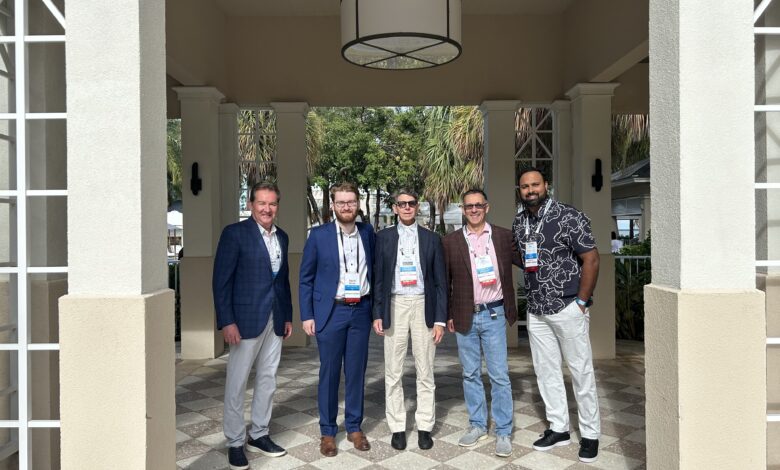 By David Berman | October 13, 2023
The hospitality industry has been through a period of uncertainty in the last five years, with COVID-19 pandemic-fueled crashes in occupancy just now getting back to a normal level. At BITAC Owners Symposium Summit, taking place from October 9-11 at the Playa Largo Resort & Spa in Key Largo, Florida, four industry executives discussed the current state of the industry, covering different topics over a 25-minute session.
The panelists were first asked about the pandemic and what effects it still was having over three years from when it first started. Sameer Nair, SVP of Acquisitions and Development at Hospitality Ventures Management Group, said the human element of hospitality was highlighted for him by the pandemic and continues to be a major focus for the company.
"(One) effect is we've realized a lot of things that are important in our business," Nair said. "That's our employees (and) how we treat them, how vital that is to our business and the work that we ask from them. So I think people were really highlighted, obviously from a health standpoint, but then also from a work standpoint. So we've made a big effort to try and be flexible with a lot of our workers that we can."
At Experience Resorts, the pandemic "put the brakes" on pursuing the company's business plan, said Guy McCarter, Head of Strategy and Partnerships at the firm. He added that post-pandemic, there have been more opportunities for deals as the industry recovered.
Dani Stern, Vice President of Development & Performance Optimization at CoralTree Hospitality, said that for a long time, the structures of hotels have been designed around what is easiest for the operators. He said that the pandemic forced companies to think more about what the guests want and need.
"I think it's forced us, positively, to listen to the voice of the customer, to give them a differentiated experience," Stern said. "Listen, we all want a little bit more control in our lives. I think that it's made us look at things differently. It may not all work, and it doesn't change all the time. But airlines can screw up everything, and they can let us choose a seat. We're still struggling to (let) somebody choose a room."
The conversation then shifted to the future of the industry in regard to technology, with much of the focus on artificial intelligence. Kevin Dailey, COO at LivAway Suites, said that his team sees AI as a complementary strategy to business intelligence. He feels that AI will naturally become a major element of both the guest and employee experiences.
He did mention, however, his concern about the hotel to guest relationship becoming too technologically driven. One likely use for AI in hospitality will be through guest reviews and questions. Chatbots already are becoming more prevalent in customer service throughout many industries, and Dailey is skeptical that guests will appreciate their inquiries being answered by a digital entity.
"I wonder if guests will be less likely to submit reviews, just because of that dynamic," Dailey said. "I do know (AI) is definitely here to stay. Let's see where it takes us. But for us, again, it's a partnership or collaboration between business analytics and AI."
Nair feels that AI will eventually help optimize repetitive, redundant tasks and help deliver a better guest experience.
"I think hopefully we're able to impact and touch the guest in a more immersive, customized way, from a sales standpoint (and) from an optionality standpoint of experiences and things that they can do," Nair said. "So I think that's a wonderful thing. Will there be some retooling and some volatility? Of course, but I think sometimes our fears are a little bit stronger than what might actually happen."
Toward the end of the session, the panelists were asked about under-the-radar challenges they are facing. Stern immediately mentioned insurance, to the agreement of his fellow panelists. He said it's becoming more difficult to get insurance for new properties, an absolute must for owning real estate.
To wrap up, the panelists gave their rapid-fire thoughts on the state of the industry, and all of them said they felt bullish. Dailey said that on the extended-stay side, demand has been high and does not show signs of slowing down. The flight of consumers to luxury and upscale will continue as people have disposable income, Stern said. Nair said he feels supply levels will continue to steadily grow. McCarter's final thoughts were on travel rates staying high.
"We also look at the desire for people to have different experiences," McCarter said. "We have data on it and it just continues to trend upwards. So we think there's a good combination of indicators for us."