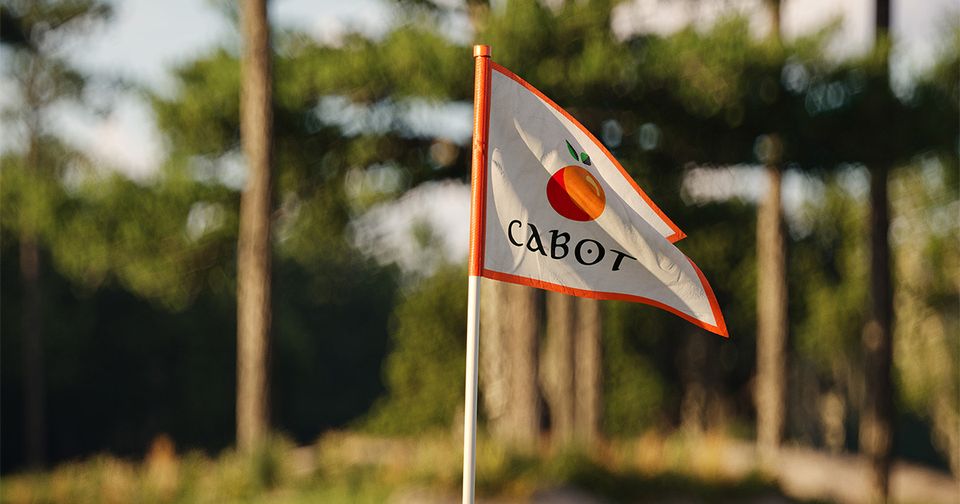 Stories
Cabot Citrus Farms to Bring Redefined Vision of High-End Golf Destination
By Steve Pike | March 1, 2023
As he stood in the sand surrounded by the mossy oak trees and scrub bushes of North Central Florida, Ben Cowan-Dewar reflected on the first time he saw the former World Woods Golf Club he is developing into Cabot Citrus Farms.
"I first heard about (World Woods) in the '90s,'' said Cowan-Dewar, who has become one of the world's top golf destination developers, thanks to such properties as Cabot Cape Breton in Inverness, Nova Scotia, Cabot Highlands in Scotland and the under-construction Cabot St. Lucia in the Caribbean.  
"I remember coming here in the late '90s and playing the courses. Woods put a dent in the world of golf in 1993 because of the two courses and par-3 course. I kept coming back and loved it.''
Understand that in the '90s, an out of the way golf destination with two courses and a par-3 course, along with a 360-degree practice range, was an anomaly. It wasn't until 1999, when Mike Keiser, Cowan-Dewar's partner in Dream Golf, created Bandon Dunes along the Oregon coast that such golf destinations were considered part of the high-end mainstream. 
Truth be told, Keiser and Cowan-Dewar are redefining the definition of high-end "mainstream'' resorts. Cabot Citrus Farms, located in Brooksville, about 40 miles north of Tampa, is the latest example. Cowan-Dewar, who considered buying the property as early as 2008, officially acquired it late 2021 from the original Japanese developer.
"Our vision is delivering on the original vision of the property, which is a world-class destination golf and resort'' said Daniel Knight, director of development at Cabot Citrus Farms. "The original developer never really delivered on that vision. He built two wonderful golf courses and world-renowned practice facilities, but aside from the clubhouse and few comfort stations, there really was no other development. But (the property) has long been viewed as a jewel in the world of golf.''
Historically, the footprint that golf course architect Kyle Franz is working in to create Cabot Barrens golf course is known as Pine Barrens – the signature course of the late, almost great World Woods Golf Club in Brooksville, FL. But location is all Cabot Barrens and its predecessor have in common. When the highly-anticipated Cabot Citrus Farms opens in December 2023, neither Cabot Barrens nor its sister course, Cabot Oaks (formerly Rolling Oaks) will resemble the originals.
"The changes were so transformative that it's kind of new-build. There just happened to be another golf course on the property before'' said Franz, who also is working with architect Mike Nuzzo on Cabot Oaks.
"With Cabot Barrens, we routed so many holes and moved so much dirt, it's really a new golf course. The same with the Oaks course – maybe even more so because we have so many holes going the opposite direction as before''
Cabot Citrus Farms will have two newly-designed golf courses – Cabot Barrens (Kyle Franz) and Cabot Oaks (Franz and Mike Nuzzo) – as well a 10-hole course and an 11-hole par-3 course that combined are known as "The 21.''
Cabot Citrus Farms also will have a walking village, two-and four-bedroom cottages, and guest rooms above the clubhouse.
Will Cabot Citrus Farms create a Bandon Dunes-like paradigm shift among Florida golf resorts?
"That's a hard (question) when you are the developer,'' Cowan-Dewar said. "Certainly what Mike did at Bandon was the original paradigm shift in golf resorts. 
"I think we followed those footsteps at Cabot Cape Breton. We've seen that formula work really well.''
That "formula'' begins with a great piece of land, such as the vast sandy soil at Cabot Citrus Farms.
"The sand and depth of sand here literally makes this a perfect site to build golf on. The area is so physically beautiful," Cowan-Dewar said. "Really great land equals great golf. If you start with that, and then add great accommodations and great food, you can create a great experience. That's what we're setting out to do here.''
Plans also call for Cabot Citrus Farms to have up to 130 homes (400 beds), a clubhouse next to Cabot Barrens, a marketplace, pools complex, and sports and fitness center. All of that, Knight said, will take "next handful'' of years to deliver.'
But possibly the most exciting part of this development is far in the future and has little to do with golf.
"Really the most amazing part of the property is still undeveloped,'' Knight said. "Out to the east of Cabot Oaks is incredible rolling topography with a subterranean cave system and 100-year-old mossy oaks. There's also 100 to 120-foot elevation changes. 
"So the vision is more golf. It always had been The ability to tap into this landscape is so unique to this part of Florida.''