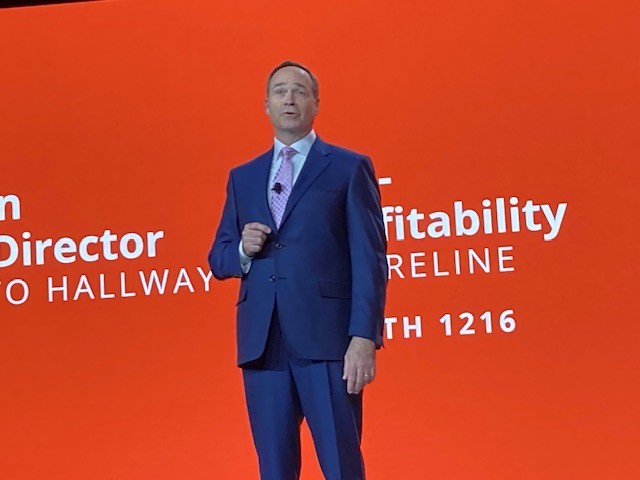 By Dennis Nessler | May 27, 2022
Based on system-wide results that outpaced the overall industry, as well as positive growth projections for hospitality in the months ahead, Choice Hotels International, Inc. hosted its annual conference with a theme of "Go" and provided plenty of reasons for optimism to its roughly 5,000 franchisees on hand.
The company's 66th annual convention took place earlier this month at Mandalay Bay in Las Vegas. Patrick Pacious, President and CEO, Choice Hotels, touted the company's recovery efforts in the wake of the pandemic and its outlook for the future to its franchise partners.
"Not all hotel companies weathered the storm quite as well as we did, but because of our history together, some smart financial decisions and an unyielding commitment to your success, Choice Hotels was able to continue to invest in our owners and in our brands at a time when you needed it most. In short, when other hotel companies said 'stop' Choice said 'go,'" he said.
Pacious added, "we've emerged through this time of uncertainty as one of the best positioned hospitality companies and franchise systems in the world."
The CEO further noted that in 2021 Choice generated a 2.5 percent RevPAR increase system-wide over 2019 levels. In addition, in the fourth quarter of 2021 RevPAR was up some 14 percent over 2019 and the company outperformed the overall industry by a combined 19 percent for the year.
"We're poised for the future and we did it together so now is the time for us to build on that lead. Now is the time for us to "Go" because things are looking up and people are ready to travel again," said Pacious, who referenced a recent study that revealed that 9 out of 10 Americans say they are ready to travel in 2022.
Pacious also underscored the company's ongoing efforts to reduce operating expenses for owners and increase profitability. As an example, implementing housekeeping by request has resulted in substantial savings.
"We've identified over a dozen different ways for the average hotel to lower operating costs by nearly 15% since we began this initiative back in 2020 and we aren't finished with trying to improve franchisees' bottom line. We're aiming to get to a full 20% in average cost savings by 2023," he said.
"One franchisee said to me 'I've never been to a convention where the focus was lowering costs for the owner,'" said David Pepper, chief development officer, during a media roundtable.
Meanwhile, the executives touted the attendance at the event and the company's long-standing franchisee relationships.
"To see more owners here than we saw in 2019 really says a lot," said Pepper.
"We've been connected virtually for the last two years and it's fantastic to be back in front of them [franchisees]," said Pacious.
The CEO further detailed how the company outpaced the industry in terms of results.
"Nobody advertised in the summer of 2020, except for Choice Hotels. We were on TV with our "On The Road Again" campaign and that drove a lot of business to our hotels. We built on that with some pretty interesting technology that allowed us to see what was happening logistically across the country and take that information and drive the right promos; for length of stay where that made sense, for discounting where that made sense. The sophistication we've got around our merchandising capabilities really accelerated during the pandemic so that drove a lot of business travel in the industry verticals that we serve," he said.
Pacious also attributed some of its success to its strong relationship with its franchisees.
"When this pandemic hit, it hit a lot of us that our friends are in trouble. Not just our business associates in the franchise world, but our friends. This company didn't decide in March of 2020 that the franchisees were at the center of what we do. That's been our legacy, so this was very much in our DNA," he said.
Pacious added, "We have some really fun stories of how we took business from our competition. It's interesting talking to these owners who own other product and they say 'the Choice global sales people and the Choice franchise services people were there when we needed them and I didn't get that from my other brand.' Those are just some key examples of why we took lead and have held onto it as we moved through 2021," he said.
Robert McDowell, chief commercial officer, Choice Hotels, reinforced the point.
"We were one of the few chains that didn't let go of the majority of our sales teams. A lot of our competitors let go of their sales teams, while we kept them employed," he said.
Finally, Pacious detailed the company's recent focus on the upscale and extended-stay segments and commented on the potential for brand expansion down the line.
"We've done a lot of investment in brand launches in upscale and extended-stay so we have a lot on our plate to be even more successful in those two key segments. There's one intersection there between extended-stay and upscale where we aren't yet. With the launch of Everhome Suites [midscale extended-stay brand] and the success we're seeing there we will want to get that to scale before we probably enter that space. But that will likely be the next opportunity for us to grow our business," he said.