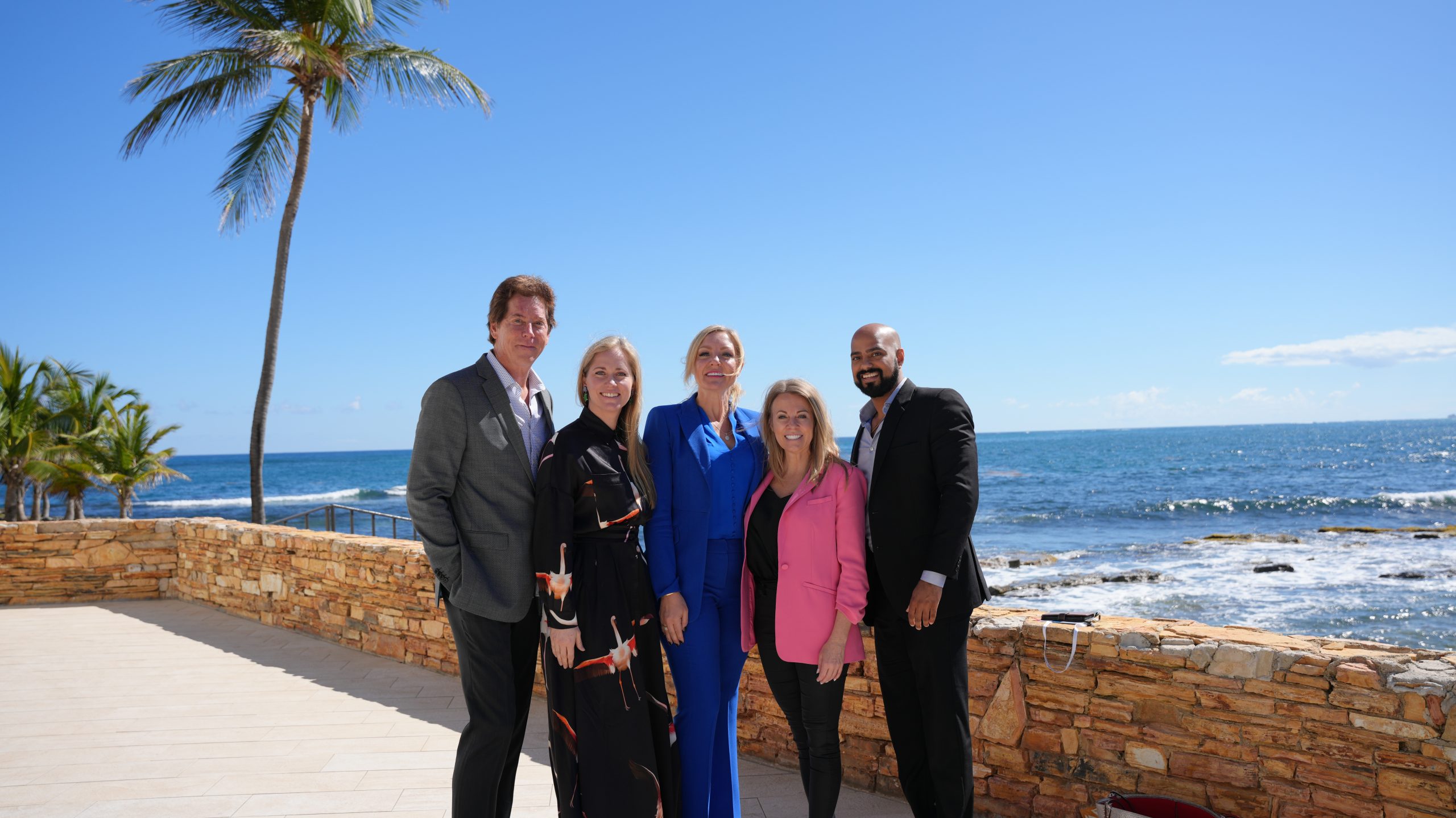 By David Berman | March 7, 2023
A big emerging trend when it comes to luxury destinations is wellness opportunities, as more and more guests want access to wellness resources on vacation. 
Four executives from top hospitality firms spoke on the intersection of wellness and luxury at the 2023 BITAC Luxury conference on Tuesday at the Caribe Hilton in San Juan, Puerto Rico. The panel was the second of three industry panels at the conference — the second BITAC conference of the year.
Speaking in front of a sold-out audience, the panelists gave their perspectives on the topic during the 30-minute session. Micah Tipler, founder and principal for Monarch & Maker, was the guest moderator for this panel. 
Tipler opened the panel by explaining how she came up with the discussion topic. She described a conversation with a friend who felt wellness was a dry subject; Tipler felt the opposite and wanted to foster insightful conversations into the topic. 
"The broad reach of what wellness means, I think it's just really interesting for all of us to think about," she said. 
Tipler's first question challenged the panelists to think of what developments have surprised them in relation to hospitality and wellness. Lori Alford, co-founder and chief operating officer for Avanti Senior Living, started off by answering from the senior living housing perspective — a unique expertise among the panelists.
She said that most people usually think of healthcare when they hear the word "wellness," but that recently it also has come to include fitness and food. 
"Our industry is really pushing towards looking at wellness beyond the health care side, and truly trying to look at it on the hospitality, holistic type of stuff," Alford said. "We've really had a big push over the past few years of trying to integrate that into the lifestyle of our residents."
After her answer, an audience member asked about whether the senior living side had integrated yoga and meditation into their services. 
"We're seeing the industry really open up to that type of wellness versus looking at it from, "Oh, that senior can't do that," which is not true, you just have to modify it," Alford said. 
Next, Veronica Schreibeis Smith, founding principal architect & CEO for Vera Iconica, talked about surprising trends she's seen on her side of the industry. She said that many trends that were predicted to be 5-10 years away have been accelerated by the pandemic. It's the job of industry leaders to anticipate these trends years before they happen, she added. 
"You have to know years in advance what your customer is going to want," Schreibeis Smith said. "And I think that if you can understand what people value, and more importantly, how values are shifting right now, that's the only way to innovate and come up with products."
Surpreet Singh, president of Kahani Social Group, said he's seeing a shift toward wanting in-room fitness opportunities. 
"Typically, when you're locked up in a room for so long, you kind of want to get out and utilize some of the amenities outside of the room," he said. "But it's kind of the reverse right now. Which direction that goes in the future, we don't know."
Donald Nevins, principal for DDM, was asked about relevant products he's working on when it comes to wellness. Talked about immersive experiences through theme park work. He echoed previous sentiments, saying that he's trying to incorporate all of these trends into new developments. He also added that his experience working in theme parks has given him perspective on the importance of immersive experiences. 
Tipler asked Schreibeis Smith about important alliances and partnerships with wellness groups. Schreibeis Smith said one notable partnership is with the American Society of Heating, Refrigerating and Air-Conditioning Engineers. This group strives to improve air quality in buildings across many disciplines, including hospitality. Schreibeis Smith said raising awareness among consumers is key. 
"At the end of the day, when people understand how the environment impacts their health, they start to want different things," she said. 
Nevins said in-room sound and light is a big wellness focus for him. 
"Who wants to go into a hotel room, turn on the TV and it's not quality sound? You got to crank it up to get across the room," he said. "I want the little mini speakers by my head. I want to be immersed in the surround system in a four and a five star."