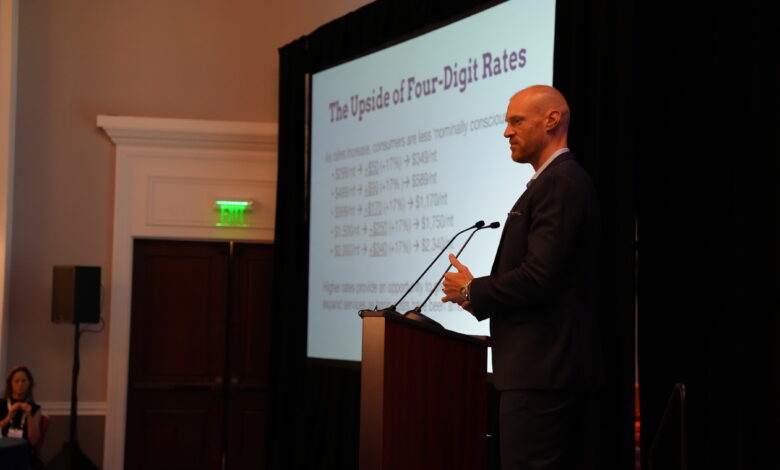 Stories
BITAC Independent Keynote: Adam Mogelonsky on 'The Mille Club'
By David Berman | August 7, 2023
As independent properties grow, operators will look to other properties higher in the food chain to get inspiration on how to reach the next level.
Attendees at BITAC Independent, which is taking place from August 6-8 at the Hyatt Regency Coconut Point Resort in Bonita Springs, Florida, experienced a keynote session on using luxury properties as a blueprint for independent properties. Titled "The Mille Club: An Introductory Guide to Attaining and Retaining $1,000+ Rates," Adam Mogelonsky from Hotel Mogel Consulting Ltd. conducted the session on Monday morning.
Mogelonsky's talk centered around how independent hotels can learn from luxury properties that charge over $1000 a night to "uplevel" their own individual properties.
The speech began with Mogelonsky talking about the psychology of pricing. Retailers will charge $9.99 instead of $10 to make people feel like they're getting a deal, when in reality there's little difference between the two numbers. Mogelonsky said the same principle applies to hotels.
"Once you cross that $1,000 mark, it feels significantly larger," Mogelonsky said. "Therefore, with great rate comes great expectations."
With a great rate also comes different customer bases, Mogelonsky said. Luxury guests are willing to travel more to find the best experience, so properties have to consider not only who is next door, but also who in the region may be a direct competitor.
Luxury hotels also spend a lot more on traditional PR and advertising, as this consumer base looks more at magazines and other classic outlets more so than online travel agencies or video.
"You have to rethink your entire marketing and public relations arm as you move up and really try to develop your cachet," he said.
Before launching into specific examples of properties in the "Mille Club" that charge more than $1,000 per night, Mogelonsky wanted attendees to remember two key words from his presentation: "exclusive experiences."
"Luxury travelers are looking for exclusivity, privacy, and experiences," he said. "They want that unique moment that they're going to take home, and it matters all the more for luxury. They will go to a property just to experience the one little thing that you do that's different from any other property in the world."
A few properties that Mogelonsky used as examples to inspire the attendees included the COMO Shambhala Estate in Bali, the Fogo Island Inn in Newfoundland, and Fairmont Le Chateau Frontenac in Quebec City. He said that the "hero shot" of the exterior of any high-end property should set the tone for what the consumer can expect upon arrival.
"First impressions are everything. You cannot neglect your arrival experience," Mogelonsky said as he highlighted the design, lighting and artwork in the lobby of The Logan in Philadelphia.
At one property, the Mandarin Oriental in Barcelona, guests don't check in at the front desk. Instead, a team member will sit down with you and get to know you over coffee or some tapas before guiding you to your room.
It's touches like these that set apart the most exclusive luxury properties, Mogelonsky said. The little details will make an impact on your consumer and can lead to return visits and strong word of mouth.
At the end of his presentation, Mogelonsky took questions from the audience. One attendee asked about how the sensory experience can impact luxury. Mogelonsky said many luxury properties develop branded scents that evoke certain moods in their guests.
The last question covered loyalty programs and how many luxury properties have adopted them in recent years. Mogelonsky said this trend is due to the growth of experiential offerings across different properties in luxury brands.
"If you're thinking about loyalty, you drive loyalty at the luxury level by being locally authentic," he said. "I know that's a buzz term, but really that is another form of exclusivity."