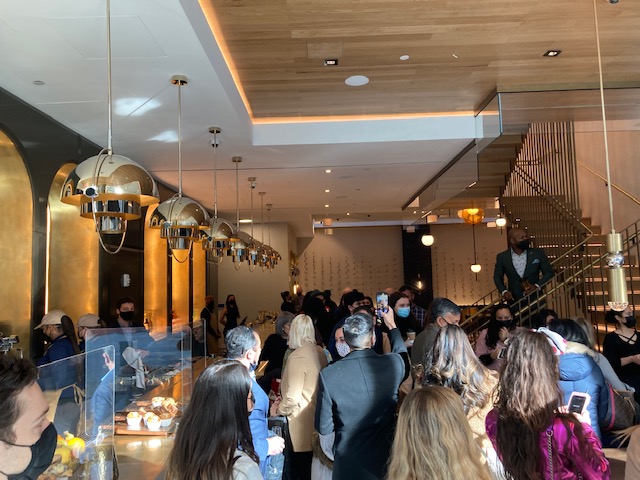 By Dennis Nessler | March 7, 2022
Any new brand is a work in progress as it continues its evolution and that's evidenced by Hilton's lifestyle brand Motto, which recently opened its third property overall and its first new build with the debut of Motto Chelsea.
The opening comes several months after the brand introduced its Motto Philadelphia Rittenhouse Square and Motto Washington DC City Center. According to Motto global head Tripp McLaughlin, the brand is poised to open additional properties this year in Rotterdam Blaak, Tulum and Atlanta.
McLaughlin—who previously worked on the launch of Hilton's midscale Tru brand a few years earlier, among others— acknowledged some of the inherit challenges with rolling out a brand.
"I've been fortunate to work on a lot of new brand launches and I always say to my owners 'we're going to make some mistakes, but we're going to learn quickly from them and work with you to kind of figure out what that looks like,'" he said.
As an example, McLaughlin noted the brand maintains a heavy emphasis on sustainability and has been in the process of rolling out a bulk amenities program, which has presented some challenges in terms of working with different vendors before "getting it right" and working out some of the quirks.
"It's all about learning and growing from it, but for the most part we've been pretty excited that we've been able to kind of keep the focus moving forward," said McLaughlin.
The brand's first hotels also had to navigate the early phases of the pandemic as they opened their doors, similar to the 374-room Motto Chelsea, which opened as the COVID positivity rate surged in New York City as a result of the Omicron variant. McLaughlin reflected on the experience gained from the Philadelphia and Washington, DC hotels.
"As travel returned, both of them were really able to capture people's desire to get back into travel, not just people who are traveling internationally on planes, but a lot of locals are looking for staycations to get back in the city. So we saw that kind of fuel a lot of that growth of those first few hotels and we're hoping that same thing will happen here [Chelsea]," he said.
Motto Chelsea offers travel-sized rooms with a sleek, modern design that feature unobstructed views of the city and are equipped with everything guests need for an enjoyable and restful night's sleep, including top-notch mattresses with sound-absorbing surroundings, according to the company. Each room is equipped with smart technology and design details to maximize the space, including built-in storage and conveniently located power outlets.
In discussing the guestrooms and overall design, McLaughlin acknowledged that the brand "naturally leans toward leisure travelers," but added it also expects to draw business guests as he drew on some of his past experience.
"One of the things that we learned from the Tru brand actually was we need the rooms to work equally as hard for business guests as it does for our leisure guests. So when you look at the room designs one thing you'll always notice is we have a lot of working spaces in the room. If you're in the room there's a place to put your laptop so you can sit there comfortably and do work there," he said.
McLaughlin further added, "if you look at the design of Motto in general across the portfolio they all tend to be a little bit more 'inviting.' We always say 'have a design point of view, but don't be alienating to too many people."