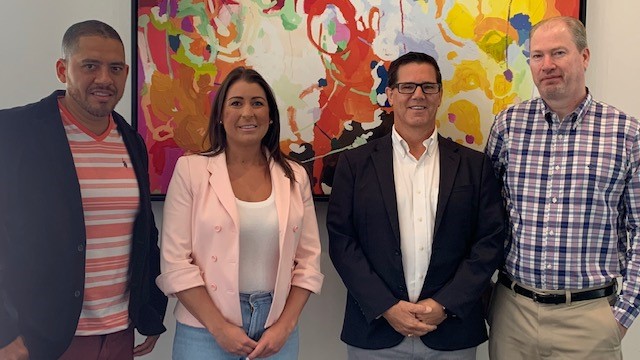 Hotel food & beverage outlets continue to adapt to the post-pandemic 'new normal' in a variety of ways designed to make feel guests feel safe and comfortable, as well as to maximize profitability in the wake of reduced demand and ongoing labor challenges.
During the recent BITAC Food & Beverage Live 2021, a trio of food & beverage experts discussed a handful of relevant issues for the industry, including changes to the breakfast buffet, condensed menus, and the creation of ghost kitchens. These topics and others were addressed during a panel discussion entitled "Ingredients For Success: Hotel F&B Outlets Alter Their Menus, Approach To Broaden Appeal."
Dean Wendel, vp, food and beverage, Concord Hospitality, refuted the notion that the traditional breakfast buffet could be a thing of the past.
"I think they're going to come back. There are too many brands out there that are built on that breakfast buffet and they won't survive without it. It may look different," he said, pointing out that many of the items are individually packaged now. Wendel did add, "I think the full breakfast buffet in some manner, shape or form will also come back."
He also suggested there may be additional protocol changes to the "service buffet" such as guests being given gloves to handle utensils, for example. "There's much more focus on the hygiene side of it. We used to say 'don't come in and clean until after service' well now guests want to see the cleaning process happening," he said.
Laurelle Kyte, corporate director of Sip & Savor, NewcrestImage, also pointed out the value of the breakfast buffet to limited-service brands while detailing a few changes the hotel operator has implemented.
"The demand is there for the buffet. Individually packaged is where we've gone with an attendant served a hot rotating item. Our focus has really been on the portion size. We've actually got our costs down more with the attendant service. I don't think people are as comfortable coming back for huge plates full of things when someone is standing there serving them. It's actually helped our bottom line a little more," she said.
Harol Ortiz, executive chef, InterContinental Houston – Medical Center, has also observed an industry-wide movement to smaller portion sizes although he suggested an alternative solution.
"A lot of chefs have reduced portion sizes because of the food costs, which are higher because of the pandemic. I'm using local produce and local ingredients so that way I can satisfy my guests," he said.
In addition to portion sizes shrinking, the panelists universally supported condensed or more focused menus that include fewer items as part of effort to increase efficiency.
"It's become a big focus and a lot of it is driven by the staff that we don't have. We need to be able to execute and make sure that we can actually get the product so we're scaling down our menus. We're not carrying huge inventory and prep times are greatly reduced when you're focusing on 8 to 10 items as opposed to having maybe 15 or 20 items on a menu," said Wendel.
Ortiz suggested the trend goes hand in hand with the movement to more casual dining. He further added that the InterContinental Houston was forced to embrace this trend as it opened shortly after the pandemic began.
"We shut down the main dining area and we reduced the menu. We didn't have the staff to create the whole menu so we cut it almost in half. We just put the main dishes in the bar area. Right now, it's very popular. A lot of people prefer to eat at the bar and not the restaurant," he said.
Kyte agreed. "The focus is moving more to the bar and the lounge. Even pre-pandemic we had been moving in that direction anyway with more focused menus…The bar is really where we're making our money so it's tailoring the menu to fit the bar program. What do people want to eat while they're drinking?"
Wendel took it a step further.
"We've been pushing our bar presence and expanding our lobby areas to make that one of the main focuses of food & beverage. We've gone through a couple of renovations where we've brought what would be the bar for the restaurant right out into the lobby, essentially right next to the front desk, and that's become our main area for dining. Guests want to sit there, it's more casual and it's more comfortable," he said, adding "you're creating a sense of arrival as you walk in [the hotel]."
Meanwhile, in the face of reduced demand, many outlets have repurposed their food & beverage operations creating what are known as "ghost kitchens" to generate additional sources of revenue and maintain staff.
"I think that's such an important part of the future of food and beverage, even with the uncertainty of what's going on [with the pandemic] right now. There's got to be additional revenue sources for F&B at hotels. It's no longer an amenity, it's a profit center and a revenue center. How do you keep it flowing even if occupancy is down?" asked Kyte.
Wendel detailed just how critical such solutions can be by outlining the financial benefits.
"Our early adapters that were on it from the get-go have survived due to their ability to react and set up these ghost kitchens. I have three or four hotels that are doing up to seven or eight different concepts. It doesn't take additional food items, you're basing your menus off what your normal menu items already are. These hotels are bringing in another $7,000 to $20,000 a month still doing these ghost kitchen concepts," he said, later adding, "it's helped bring staff back and kept hotels alive during dark times."
Those dark times include the period immediately following the outbreak of the pandemic last March when guest demand dropped. But Ortiz noted the InterContinental Houston was proactive in helping to ensure the safety of guests. The hotel became the first to use the Integrated Viral Protection (IVP) Bio Defense Indoor Air Protection Filtration System. He noted the system was created by the owner of the property and reportedly kills 99.9% of the COVID-19.
"We are in the middle of the largest medical center in the world so our priority is our guests and our staff. A lot of people travel here from other countries to get treatment and they prefer to stay in our hotel. We have to make sure they are safe," he said.