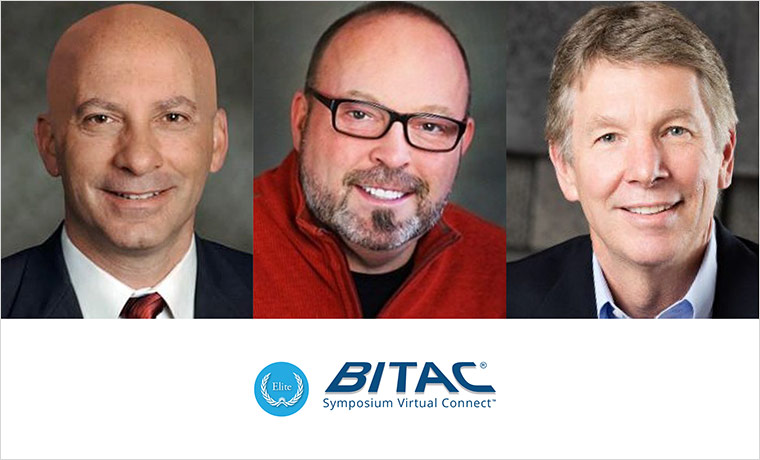 Stories
The Power Of Pent-Up Demand
Citing pent-up demand for travel and increased future bookings, as well as a recent uptick in performance, a trio of hotel executives expressed optimism about a lodging industry recovery occurring sooner than later.
Speaking on a panel entitled "Executive Outlook: Assessing The Current Lodging Industry Landscape," Ron Pohl, COO, Best Western Hotels & Resorts; Bradley Wiens, President, True North Hotel Group; and Brent Rumsey, vp, franchise operations, RLH Corporation, all weighed in on current conditions during BITAC's Virtual Symposium 2021 last week.
"I think people have had enough of sitting at home and not being able to travel and I believe that we're on our way," said Pohl.
He also pointed out that booking windows are finally increasing. "We're seeing pacing for 2021 almost as strong as it was in 2019. I think that's a leading indicator that people just want to get on the road and play honestly," commented Pohl.
Rumsey reinforced the point.
"People are pent up and they want to get out and so I think our hotels are going to see a lot of growth in both ADR [average daily rate] and occupancy, especially with the summer travel," he said.
Rumsey did, however, add one caveat. "I think the recovery implies that we're all coming back and I don't think we're all coming back. I think it's not equal across all segments or markets," he said, specifically noting that group business and corporate travel remain a concern.
Wiens, for his part, noted that True North's portfolio of hotels has seen double-digit increases in RevPAR [Revenue per available Room] for the first three months of 2021.
"It's exciting for us to see the uptick and we attribute it to two factors. One is as everybody knows there is a pent-up itch to get back on the road and go do something; to get out of your house or get out of your office. And the second one is people are getting vaccinated. So both of those factors are positive and promising and we're pretty excited to see what's coming in Q3 and Q4," he stated.
The brand executives talked about the need to pivot throughout the downturn of the past year in an effort to help reduce the financial strain on their owner partners.
"Like many hotel companies we paused any PIPs [property improvement plans] at our properties. So for the last 12 to 14 months most of our properties haven't had much in the way of capital improvements at all. We're still in a wait-and-see mode about how hard we push this, but at some point just out of necessity we're going to need to address these capital projects because the guest expectations are going to come back and we need to be able to meet those," said Rumsey.
Pohl acknowledged the importance of helping owners through this difficult period, as well as the community in general.
"Our goal was to not lose any hotels through this. We've done a pretty good job with that as well as something that we've never entertained before. We've allowed hotels to be leased out for a period of time if government would need them for essential workers or there were other demands for that hotel. We would allow them to operate that hotel in that fashion for a period of time and then return it back into the Best Western reservation system. So we're really trying to be accommodating through it," he said.
Rumsey noted RLH Corporation has also gotten creative with solutions.
"We went down that road as well allowing some of the agencies to take over the hotels and then return them back to normal when they were done, which was a really a need at the time. We've also seen some of our owners that have dual properties close one and house everybody at the other one. We've allowed that to go on for a little while to help the owners through a tough time. These are all unprecedented things we would never think to do before," he said.
From the ownership perspective, Wiens noted that growth opportunities have started to emerge despite the downturn, both in terms of acquisitions and new builds.
"I've been approached by several brokers that are willing to pay based on numbers from '19 in order to build their portfolios. We've been fortunate that the assets have been performing and we're not in the position where we have to unload," he said.
Wiens did note that the company is eagerly anticipating the opening its first managed AC Hotel by Marriott in Tuscaloosa, AL, next month.
"We're pretty excited about that and we've got several other opportunities that have been sitting on the sidelines for a little bit, but now we're seeing a little bit of traction. We want to keep doing what we do and that's building our portfolio in great markets with great product," he said, noting that local lenders are showing more of an appetite for projects depending on the leverage ratios.
While the lodging industry has been challenged during the past year, alternative forms of lodging, such as Airbnb and home rentals, have thrived in many markets. While Pohl acknowledged "home sharing is here to stay" he detailed some things hotels can do counter their momentum.
"I see hotels coming back and maintaining their market share in this. I think what's most important is we've spent a lot of time throughout the industry focusing on levels of cleanliness and how we're going to protect customers, but that's still top of mind. We've got to practice what we preach in this. Our customers are still expecting that in most cases and we have to live up to that. When they find that we're not or falling short of those expectations that presents a problem," he said.
Rumsey reinforced the point.
"I think it's predictability and trust. I think hotel companies have done a great job in being very transparent about our cleaning and COVID protocols. We were up front and transparent right out in front of the consumer. I think we established a lot of goodwill and a lot of trust with that kind of messaging that we went out with and the protocols we put in place and I see those continuing down the road," he added.
The panelists concluded by addressing some of the top challenges going forward.
"Everybody's struggling to find the right labor force because they were either furloughed or laid off and these individuals have gone elsewhere. So owners talk to me a lot about how I'm going to help staff my hotel as business is returning, but I'm still optimistic about the future," said Rumsey.
Wiens acknowledged the labor challenge as well, but is encouraged as a result of the increase in bookings going forward.
"The fact that we have this pent-up demand is really going to benefit everybody. The biggest challenge we're going to have is getting back to our rate. Hopefully that will be a focus as occupancies return," he said.
"I think it's also important as an industry to look at some of the changes that we made with breakfast, housekeeping and mobile apps and where those go in the future because I think there's changing expectations as it relates to that. I think it's an opportunity for brands and hoteliers to benefit from reduced operating costs for hotels as we look to the future," concluded Pohl.