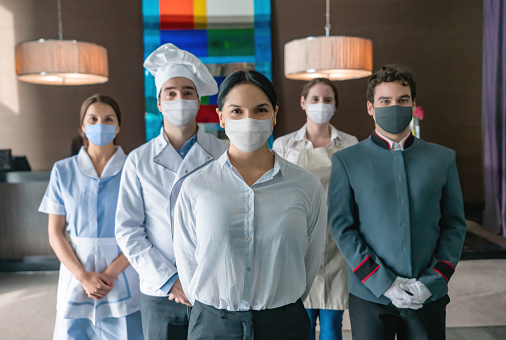 By Dennis Nessler | April 13, 2022
It's well documented that labor remains a huge challenge for the lodging industry in the wake of the pandemic and the massive loss of jobs that resulted. Hospitality is far from the only industry having trouble finding qualified workers, but when you consider that many workers reportedly have no intention of returning to hotels the issue is far more serious.
According to the American Hotel & Lodging Association (AHLA), no industry has been more affected by the pandemic than hospitality when it comes to job loss. As of last year, leisure and hospitality had lost 3.1 million jobs during the pandemic, representing more than a third of all unemployed persons in the United States, according to the Bureau of Labor Statistics. In addition, hotels were projected to end 2021 down 500,000 jobs.
In a recent panel discussion at the Hunter Conference, Julienne Smith, SVP, development, IHG Hotels & Resorts, offered some commentary.
"We need people to be wanting to be a part of our industry, right? For young people coming out of college, it's not just about working in hotels there are a lot of other aspects to this business that are attractive. Attracting young people to this business I think should be a primary focus to allow us to grow and evolve," she said.
Furthermore, Smith urged attendees to "continue to tell your story" as it relates to travel. And there are good stories to tell within the industry as well. For example, consider that yesterday was named No. 2 on the 2022 Best Companies to Work For list in the U.S. by Great Place to Work and Fortune. There were three other hotel companies in the rankings with Marriott International coming in at 23, Kimpton Hotels & Restaurants at 44 and Hyatt at 70.
"We're incredibly honored to be recognized as a Great Place to Work for the seventh year in a row," said Chris Nassetta, president/CEO, Hilton. "I'm so proud of our team members and everything they've done to share the light and warmth of hospitality with our guests, especially over the last two years. This recognition is a testament to what we've built together at Hilton—a culture that's welcoming, supportive and showcases the transformative impact our hospitality has with our guests, owners, communities and each other."
The mega-brand company provides benefits to both hourly and salaried team members, including expanded parental leave, adoption assistance and extended bereavement leave. Last year, Hilton also launched a new campaign to increase support for team members' mental wellness, focused on creating dialogue around the topic of mental health, providing team members with new tools and resources and leaning on Hilton's established culture of well-being, according to the company.
In addition, Hilton has dedicated goals to achieve global gender parity and 25% ethnic diversity at a corporate leadership level in the U.S. by 2027. Additionally, it was ranked No. 1 on DiversityInc's 2021 Top 50 Companies for Diversity list.
That's a story that needs to be told, and emulated, by every hospitality company.