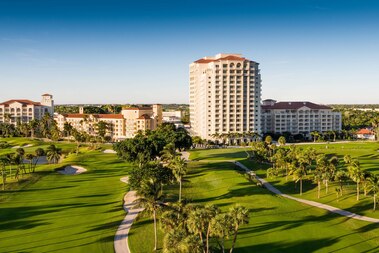 By Dennis Nessler | May 19, 2021
Just as Florida was one of the hot spots—or at least perceived to be one of the problem areas—of the COVID-19 pandemic, the Sunshine State now is at the forefront of the nation's travel resurgence. Helping spark that resurgence is the fact that many hotels and resorts are offering special travel packages for those who have worked hardest to create what we see know as a brightening light at the end of the pandemic tunnel, as well as special offers for those who have been vaccinated.
Resorts such as Pelican Cove Resort & Marina in Islamorada; Sandpearl Resort in Clearwater; and the JW Marriott Miami Turnberry Resort & Spa; for example, each are offering special rates and other benefits to groups that include South Florida teachers, active-duty military personnel, police, fire and rescue workers.
Nationwide, Loews Hotels is funding local school projects through DonorsChoose.org, an online non-profit that helps teachers and students in need by connecting them with people willing to donate directly to classrooms.
Loews has also started the "Loews Loves Families" program, which provides everything from cribs and nightlights to family activity guides.
Reunion Resort & Golf Club in Orlando has a "Drivecation" package that includes discounts to Central Florida attractions Discovery Cove and Wild Florida.
These "heroes" packages, as well as other packages and incentives, are fueling what is expected to a successful summer and early fall tourist season for hotels and resorts across Florida, and particularly in South Florida.
"As more and more people were getting vaccinated and becoming open to travel, we wanted to create a great package geared toward our everyday heroes—the men and women who worked harder than ever before in this past year," said JW Marriott Miami Turnberry Resort & Spa VP/managing director Jeffrey Klein. "Teachers were tasked with keeping our kids focused, engaged and educated virtually, while firefighters, police, rescue workers and ,of course, our active military were all on the job, keeping us safe while enforcing all the new guidelines. Now as summer approaches, they can take a break and enjoy their families and we can make it special and more affordable for them."
Coming off a $300 million renovation that included both golf courses, the addition of a new tower— which doubled the number of guest rooms—a new conference center and Tidal Cove water park, the JW Marriott Miami Turnberry Resort & Spa helped fuel a strong Winter 2020-21 season across South Florida as post-lockdown demand sent occupancy rates at hotels and resorts soaring.
"We truly believe that our summer and fall bookings for leisure travel will remain strong—consistent with our spring trends," Klein said. "We see more and more families traveling together and celebrating special occasions stateside as opposed to abroad—the concept of staycations has been expanded beyond just our backyard, but to 'stay in U.S. vacations' bringing more domestic travel. With borders still closed, restrictions in place or requiring quarantine, staying in the U.S.—particularly in a year-round destination like South Florida is bound to be more popular than ever.
"We are optimistic—and believe South Florida is leading the hospitality industry's recovery. We want our guests to travel with confidence."
Plunge Beach Resort in Lauderdale-By-The-Sea is among the properties that have created a "Vacci-cation Package'' for vaccinated travelers.
"South Florida is kind of an anomaly, especially the beachfront hotels, for what's been going on around the country," said Plunge Beach Resort general manager Tom Mulroy. "Anything that's along the ocean is well out-performing anything else.
"That's a combination of people itching to travel and pent-up demand. People can't travel internationally yet, so we're an alternative to a Caribbean vacation."
The pent-up travel demand, said Kai Fischer, general manager of the new Hilton Aventura Hotel in North Miami, are the "hard working individuals" looking for leisure destinations.
"They want to be comfortable. They might want to get on a plane, or they might not. For those within driving distance, that might be where somebody is more comfortable. Those coming to a destination like Miami or South Florida, it's really about what [hotels] offer and how comfortable the guests feel," he said.