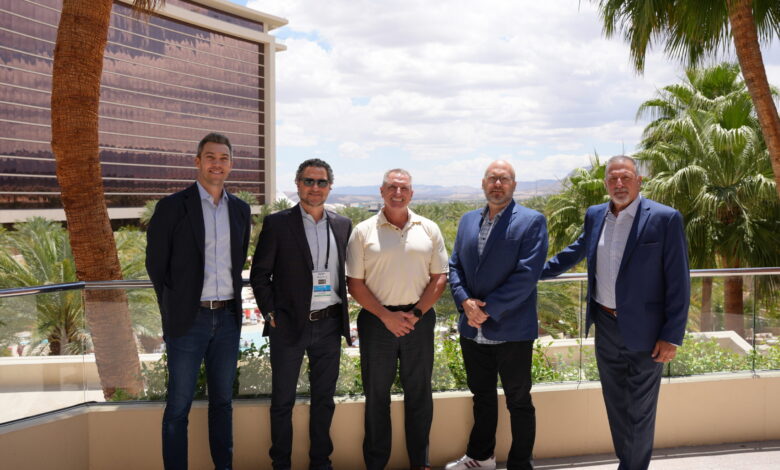 By David Berman | June 14, 2023
The Las Vegas Strip is constantly changing, with new hotel, dining and entertainment options popping up left and right to keep the area fresh. 
Attendees at BITAC Casino Resorts, which took place from June 12-14 at the Red Rock Casino Resort & Spa in Las Vegas, learned more about evolving properties on the strip during a panel discussion titled "What's New in Town? Rio 2.0 and Fontainebleau 2.0." Moderators Adam Rosenberg, Senior Advisor to Blackstone, and Larry Birnbaum, Principal of Xenios Group, led the panel on the morning of June 13. 
The panel mostly revolved around the currently-in-development Fontainebleau Las Vegas and the over 30-year-old Rio Las Vegas Hotel & Casino. Stephen Singer, CFO of Fontainebleau Development, and Jack Behrens, VP of Development & Asset Management for Dreamscape Companies, which runs the Rio, provided inside looks at the work being done on these two properties. Gregg Lowe, VP of IT for Boyd Gaming, gave an IT perspective on resort development. 
Singer spoke about the long history of the property, which has been in development since 2005. The property has changed hands multiple times, with events such as The Great Recession and the COVID-19 pandemic preventing completion of financing and construction. Singer talked about how remarkable it is that the property began as a Fontainebleau and will now open as a Fontainebleau this December after a seemingly indefinite developmental purgatory. 
"We will compete at the top of the market, (with) tremendous design and tremendous programs," Singer said. "We are very excited to finally deliver this asset to the community, to all the customers that will eventually come to visit and obviously to our shareholders as well."
Lowe was asked by Rosenberg what casino executives should be thinking about in terms of technology, whether they're creating a new asset from the ground up or modernizing a pre-existing space. Lowe said it's crucial to think ahead about what will be modern in the next few years to keep ahead of new trends. 
"So you have to have that vision of looking ahead," Lowe said. "You also have to have the vision of, what does the customer really want from an IT point of view. You can inundate people with IT. I can give you too much so that you can't consume it. So, what's consumable? What is it that's really wanted? What's really needed? That takes a little bit of time and research."
To Lowe's point, Singer said there's a "tremendous amount" of risk potential in trying to think too far ahead and advancing to the point that the customer isn't ready for. Behrens said that the Rio has "lots of legacy issues" and is currently figuring out how to merge those systems with fresh tech.
Birnbaum asked the panelists about the development cycle, specifically how much the vision for a property can change over time. 
"So you have a lot of great ideas about things that you want to do, different programmatic elements, things of that nature," Singer said. "We do the best we can to put a stake in the ground and say, this is going to be a steakhouse, that's gonna be an Italian restaurant. But inevitably, over the development cycle, we get many, many different people with ideas and perspectives and changes. And so unfortunately, you just have to go, and that's half the process that we went through. Ultimately, we will never get it perfectly right. We think we've done an incredible job to this point of getting very close to where we wanted to finish."
Lowe said going back to the drawing board during the development process takes time, making it even more important to involve IT at the beginning of the process.
"We need to be at the table early," Lowe said. "IT needs to be part of conversations. Any idea coming up, we need to be there and talking about it together. Is it feasible? Is it not feasible? The cost associated with it, does it fit the timeline? You really need to make sure you're in lockstep with all teams, because technology touches everyone and everything."
One of the last questions to the panelists was about changing demographics of casino consumers. Behrens had two thoughts on the subject. One, he said that casino teams sometimes have to "force" changes on the consumer and allow them to adapt. He cited how slot machines used to take coins, and many in the industry thought guests would rebel if there were any changes to that. 
His second notion was that leadership must understand wants versus needs in their casino.
"There's certain things that you'll find in casinos all the time," Behrens said. "We all need a steakhouse. For some reason we all need an Italian restaurant. We all need an Asian restaurant. So there's certainly must-haves, and there are certain want-to-haves."