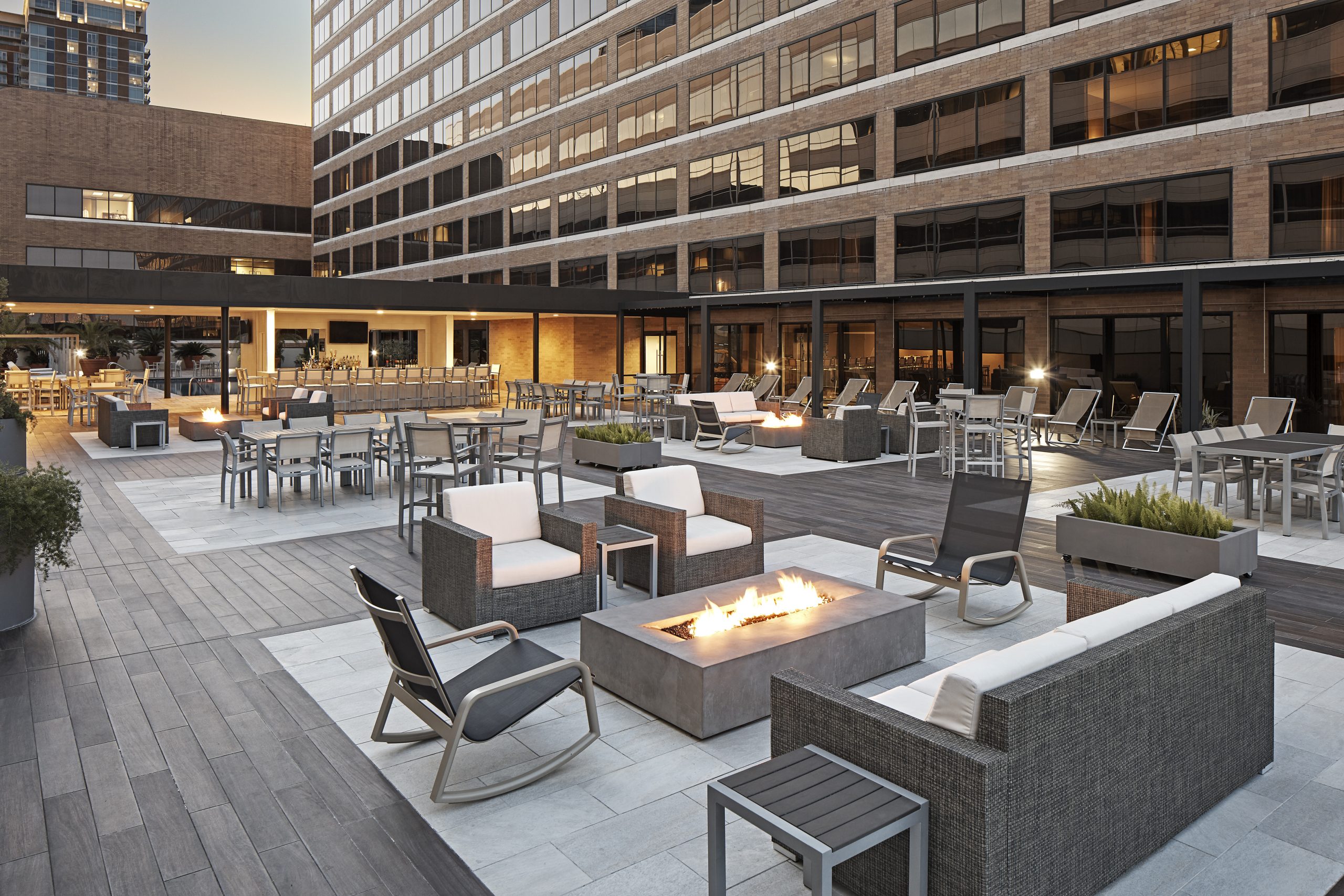 By Dennis Nessler | July 7, 2021
As hotel demand came to a screeching halt last spring with the onset of the pandemic, a handful of hotel management companies used the unprecedented drop in business to start planning improvements that will help reposition the properties for long-term success.
Third-party management giant Aimbridge Hospitality, for example, just announced a handful of completed renovations, some of which include urban markets such as Philadelphia, Houston and San Jose.
The Sheraton Philadelphia Downtown—which is part of the Logan Square neighborhood—boasts a newly redesigned property after $30 million in renovations with all new rooms and suites, lobby, and dining outlets.
The Hayes Mansion San Jose, Curio Collection by Hilton reopened following a $20 million renovation. The newly flagged property includes 214 guest rooms and suites.
The Hilton Houston Plaza/Medical Center has also completed full renovations including improvements to the guest rooms, public areas, meeting spaces, fitness facilities, and dining areas in addition to enhanced cleanliness measures and fresh finishes throughout.
Also within the Aimbridge portfolio, the former Sheraton Columbia Towne Center Hotel has been repositioned to the Merriweather Lakehouse, Autograph Collection following extensive renovations. The 212-room Columbia, MD property is expected to debut this month. Finally, the Laguna Cliffs Marriott Resort & Spa in Dana Point, CA, recently underwent $25 million in renovations.
Meanwhile, Chicago-based Arbor Lodging Management recently finalized GC contracts to renovate 12 select-service properties this year. The select properties—which range from the west coast to the east coast—include Courtyard Farmington/Connecticut; Hampton Inn Irvine/California; Hilton Garden Inn Arcadia/California; Hilton Garden Inn Bakersfield/California; Hilton Garden Inn Folsom/California; Hilton Garden Inn Irvine/California; Hilton Garden Inn Roseville/California; Homewood Suites Somerset/New Jersey; Homewood Suites Wallingford/Connecticut; Residence Inn Mount Olive/New Jersey; Residence Inn Rocky Hill/Connecticut; and the Springhill Suites Arcadia/California.
Arbor Lodging Management will begin these renovations in the fourth quarter, each varying in scope based on location and property. Exterior projects will include new building paint and building signage, decorative lighting, parking lot resealing and restriping, and a porte-cochère refresh. Interior projects will also vary in scope, incorporating new finishes, new furniture, new public restroom tile and partitions, and new equipment in reception, lobby, dining, board rooms, indoor pools, exercise rooms and corridors. Guestroom upgrades will feature new finishes, tub-shower upgrades and hardware, new mattresses, along with new bathroom lighting, vanities, mirrors, equipment, case goods, and hardware.
Another notable property that recently completed a renovation is the Arizona Biltmore, A Waldorf Astoria Resort, which reopened in May with more than 700 guestrooms, villas and suites. The property-wide transformation was completed by Virserius Studio, PHX Architecture and Jim Smith of Serving the Nation, Inc.