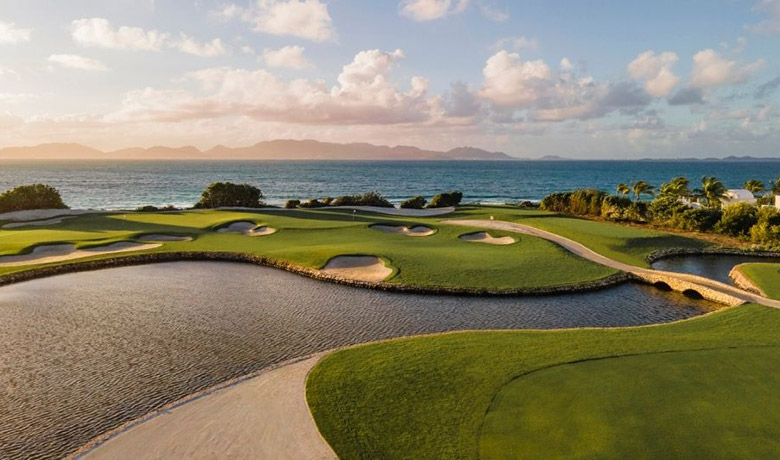 Stories
Schulze Aims to Achieve Top 100 Status
By Steve Pike | December 20, 2022
Even billionaires have bucket lists. Richard M. Schulze, founder of retail giant Best Buy, wants the International Course at his Aurora Anguilla Beach Resort & Golf Club to achieve Top 100 status in the next two years. One way to achieve that goal, Schulze figured shortly after he acquired the 300-acre Caribbean resort, was to build a short course.
A keen observer of such revered places as Augusta National Golf Club and Pebble Beach Resort (where he was among 110 owners until three years ago), Schulze knows that short courses – par-3 courses and layouts in general less than 18 holes and holes no greater than 300 yards – are a growing common denominator among the world's elite courses.
Schulze acquired the former CuisinArt Resort in December 2020 from the estate of Conair Co.
Basically unwanted and unkept by Rizzuto's heirs, Schulze saw unlimited potential among the overgrown brush and trees that grew unchecked on the property and blocked views of the blue/green waters of Rendezvous Bay on Anguilla's southwest side.
In early 2021, on a private plane flight with golf star Greg Norman to look over the latter's original layout of the International Course, which opened as Temenos Golf Club in 2006, Schulze popped the question about a short course along a 19-acre piece of land between the International's sixth and seventh holes.
Thus began, for all practical purposes, the story of two golf courses – the renovated Norman Signature International and the new Avalon Links short course – each being rebuilt and built, respectively at essentially the same time as the world was recovering from the Covid pandemic.
The renovated International (7,165 yards, par 72) fully opened this past April, complete with new bunkering, and Latitude 36 bermudagrass and TifEagle greens, fully opened this past April. The nine-hole Avalon Links (1,315 yards, par 28) opened this past November with Sculze hitting the inaugural 95-yard tee shot high into the Caribbean Ocean backdrop.
A pure walking course, players can carry their bags or use pull carts. There are no powered golf cars.
"We're pulling a cart or carrying a bag. That's really the way the game was made to be played,'' said Schulze. "I'm excited to be able to play just that way.''
The name "Avalon Links,''  Schulze said, was chosen to represent a place to rest and rejuvenate.
"Avalon is the king's playground,'' he said.
As much as Avalon Links – and Aurora – is a playground, Schulze  wants them to be so much more. Enter the Schulze Family Foundation, which has donated hundreds of millions of dollars to medical, education and human services, primarily in Minnesota and Southwest Florida, since its beginning in 2004.
Schulze wants to do the same for the citizens of Anguilla, more than 560 of whom work at Aurora Beach Resort & Golf Club, which is managed by Sheila Johnson's Salamander Hotels & Resorts.
"The secret sauce (at the resort) is our people,'' said Schulze, an energetic and approachable 81-year-old billionaire. "I just love every one of them.''
It only takes a few minutes at the 380-acre resort on Anguilla's southwest side to know why Schulze feels the way he does about his employees. And it's those employees and feelings that has inspired him to give back to the island that sits approximately 200 miles east of Puerto Rico.
The Schulze Foundation, for example, has bought Anguilla hospital's first MRI machine; its feeding hot breakfasts and lunches to local school children; working with various community organizations to buy laptop computers for underprivileged children; and is opening a neighborhood health clinic to serve uninsured people throughout Anguilla.
The Foundation also is working to upgrade the island's hospital facility, which was severely damaged during Hurricane Irma in 2017.
"I'm a big believer in giving back and doing the right thing for the community,'' Schulze said. "I'm hopeful that all these steps that we take as a company and ownership plays a bit off everybody else who is here and says, 'Step up and do your part to make the community better.'''
On Dec. 22, Aurora Anguilla Resort & Golf Club will launch the property's newest offering: the Aurora Anguilla Private Charter Service, available as a travel option to and from the resort, departing Westchester County Airport. The arrival airport in Anguilla is Clayton J. Lloyd International Airport.
The Aurora Anguilla Private Charter Service will operate two flights per week offering four four- and seven-night packages – Thursdays and Sundays. Flying time is approximately three-and-a-half hours on the Embraer-170's – the same jets American Airlines flies into Anguilla.