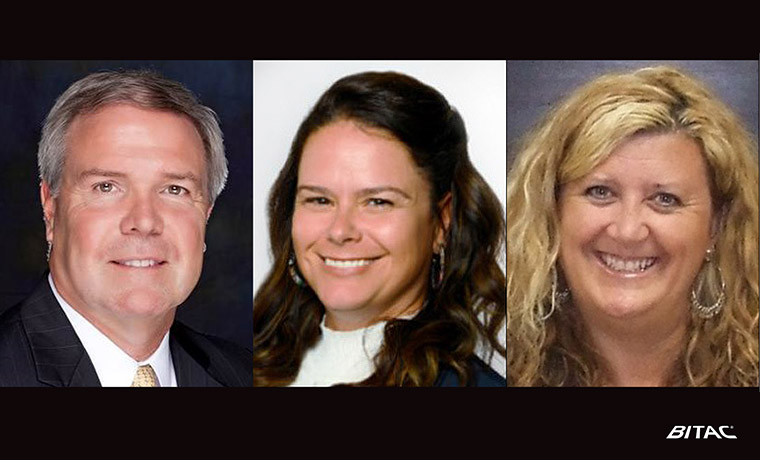 From new safety product like plexiglass to more stringent cleaning protocols, the impact of COVID on purchasing has been profound, but a trio of executives all touted the response of procurement companies and expressed optimism moving forward during BITAC Purchasing & Design Virtual Connect 2021.
Speaking during a panel session entitled, "Post-Pandemic Perspective: Purchasing And Design Execs Discuss What's Next," the participants also observed a recent uptick in renovation activity and weighed in on some of the challenges with getting product from overseas in the current environment.
Priscilla Nesbitt, purchasing director, U.S & Canada, Best Western Hotels & Resorts, noted that the brand company is "slowly getting back to in person," but added she has been impressed with how purchasing has progressed despite the pandemic.
"I'm just amazed at how well we've been able to manage 18 months of doing everything virtually. Being in hospitality we want people to be traveling and we want the in-person meetings, but I'm impressed with how well we've managed, including doing inspections at hotels via zoom," she said.
Kevin Ball, vp, purchasing, Affinity Gaming, provided the perspective of a casino owner/operator and noted he also has been pleasantly surprised with the progress. While acknowledging "it's becoming a little bit better now," Ball was focused on the impact of the changes to cleaning protocols specifically.
"Just walk through a casino and look at all the services that people touch; every slot machine, every pool, every button. Just trying to forecast the supply for the cleaning products alone was a challenge. I'm amazed that we did as well as we did. We've had some hiccups and we've stubbed our toe, but we made it happen with as minimal impact to the guest as possible," he said.
April Geter, director of projects, Bray Whaler, Inc., meanwhile, cited the availability of plexiglass as a key challenge.
"We couldn't get it and it was so back-ordered, but we did have a few [hotel] openings that happened during that time where they were in a retrofit situation. So we had a few situations in which we had to think outside the box. That was a hot commodity for a very long time," she noted.
When it comes to project activity, Geter noted that renovations have started to pick up again in contrast to what the company saw early on in the pandemic.
"I would say that initially owners were super apprehensive of moving forward with a project so we actually saw a significant decrease in the renovations very quickly. The good news is we are seeing that they are starting to release [projects]. They might be released with a little bit of an adjusted scope, but we definitely are seeing an increase in the last few months of our renovations coming back," she said.
Nesbitt added, "a lot of our properties took advantage of the hotels not being full and continued with renovations so that I found was very effective."
Ball pointed out that delaying renovations can come at a cost.
"We delayed projects and in hindsight I think I would have done it differently in that we delayed the projects, but now we had to rebid the products and the prices aren't the same," he said, noting that specifically wood has tripled in price, there is a shortage in foam rubber and shipping containers out of Asia are hard to find.
Ball added, "I wish I would have bought the stuff and just put it in a warehouse, it would have been cheaper than the impact I'm seeing now. But I don't think I'm the only one that's in that boat," he said.
The panelists elaborated on some of the specific product that has seen the most increases. Nesbitt noted that lumber pricing, for example, has been "ridiculous."
"We're hurting badly with terry [cloth] and linen. A lot of it is produced in India and China and right now India is in crisis mode so we are expecting price increases," she said.
Geter has also observed per yard increases on "the fabric side of things." She added, "I'm sure this is all because so many fabrics come from overseas and different parts of the world where they're seeing increases and then it's just the sheer cost to even get it here."
Nesbitt also emphasized some of the changes to food & beverage as a result of the pandemic have had an impact. "Where most hotels moved to the individually wrapped items companies soon ran out of stock because that wasn't something that was happening before. So pricing went up and shortages really affected us," he said.
Pricing issues have forced companies to alter their approach, according to the panelists.
"You're not getting these long-term quotes…the expiration dates are within 30 days now. We have to definitely be a better consultant and be open and honest with our owners so that they can make wise decisions. For the purchasing agent it feels like we are constantly repricing and revalidating what we might have been able to take for granted before," said Geter.
Ball reinforced the point.
"The project that we had 18 months ago is going to look different now because the cost adders are so much more that we're actually value engineering the project and either reducing the scope or taking pieces out or we're redesigning it to a different look," he said, adding that corporations are going to have to "streamline the budget approval process" going forward.
Nesbitt, meanwhile, further cited some of the challenges with securing product from overseas.
"Not only are we experiencing shortages with products, but the shipping and the lack of containers. Every week it is something new, so you have to add on at least 30 days just with the container if you can find the container to bring your products. So that I think is having a huge impact on all of us," she said.
Nesbitt further added these issues have led to the company looking more at local manufacturing as a viable option. "It increases the product price dramatically. But when you take into account the cost of freight, if you'll even be able to get the container, I'd rather be paying more for a product that I'm sure I can get then saving some pennies and never receive the product," she concluded.