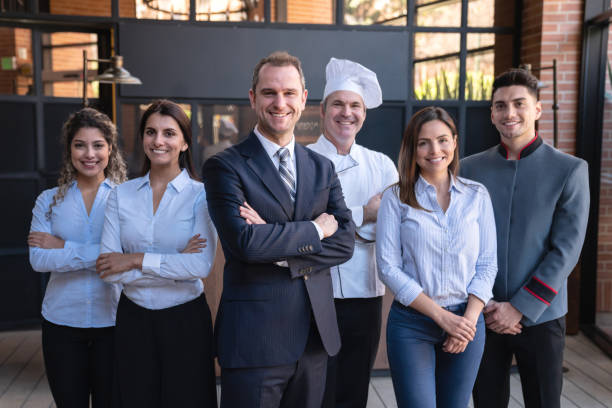 By Steve Pike
Thirteen months ago, the hospitality industry—from luxury resorts to mom-and-pop restaurants—was letting go of employees as a result of the COVID-19 pandemic. Now in the middle of Spring 2021 and with a potentially strong summer on the horizon, many of those resorts, hotels and restaurants are trying to get back those same employees, as well as search for new employees.
But government stimulus checks, tax refund checks and unemployment benefits—up to $600 per week in some states—have kept people from returning to the workforce. That's created an unprecedented glut of job openings in the hospitality industry.
It's not unusual, for example, for a hotel or restaurant to post a sign—while reminding guests to wear masks and social distance—that also asks them to be kind to what could be a skeleton staff of workers.
Job fair postings by resorts and restaurants appear weekly on social media. Some resorts are offering signing bonuses (paid after anywhere from 30 to 90 days) to attract new employees. Others have had to limit occupancy to ensure quality of service.
"You have to be creative," said Tom Mulroy, general manager of Plunge Beach Resort, a boutique hotel in Lauderdale by the Sea, FL. "The first thing you have to do is retain the staff you have."
The Bureau of Labor Statistics earlier this month reported that the U.S. economy gained only 266,000 jobs this past April, as opposed to the one million jobs that had been forecasted. Not all those jobs gained or unfilled are in the hospitality industry, of course, but the numbers reflect a trend that has impacted the industry.
In South Florida, it's estimated there are currently 25,000 jobs available in the hospitality (hotel and restaurant) industry. It's a predicament that few experts saw coming as a full recovery begins to become a reality.
"Positions that you normally would never have a problem staffing—like bartenders—you're finding hard to staff," said Mulroy. "It's always been challenging to find some positions, like line cooks and room attendants—but this is crazy.
"We're all looking for talent in all positions. A property like mine—at the beach—we're looking at occupancy levels similar to 2019, but with 50 to 75 percent of the staff."
The worker search isn't just a challenge in South Florida. Even places such as fabled Pebble Beach Resorts along the Monterey peninsula in California, is feeling the pain.
"Business has come roaring back, which is fantastic, but we're having trouble finding qualified staff to provide all the work we need," said John Sawin, vp and director of golf at Pebble Beach Resorts. "We're spending a lot of time on hiring."
Requirements for employment at the resort, Sawin said, haven't changed, "but before (COVID-19), if we put up a job opening, we'd immediately have 10 to 15 qualified applicants. Now we don't have that, so we're almost doing more recruiting. Before, they came to us. But we have found some nice veins—some of the college teams whose players go to school online—have the abilities to work."
When will the employee drought end?
"September, I believe, is when the constrictive effort for people not to come back to work is kind of released," said Kai Fischer, general manager of the new Hilton Aventura Miami Hotel. "I think it's easier today to find management talent than the hourly talent. We've had to be unconventional in our efforts. Many hourly (employees) are staying home and taking advantage of unemployment. They're not ready to come back to work."
COVID-19, Fischer said, basically gave the hotel industry the "wake up" call it needed to re-identify itself and re-formulate a better working model for owners.
"As hoteliers, we were leading the direction on service, but in some ways losing sight of return on investment from an ownership standpoint. When push came to shove, you had to dwindle down your operating model to the most viable individual you had in the operation to give the best services that the guest really required, rather than what you thought they wanted.
"I've turned into an art collector, sommelier and a food critic. Every hire I make, I'm looking for the best value and the greatest talent," he concluded.