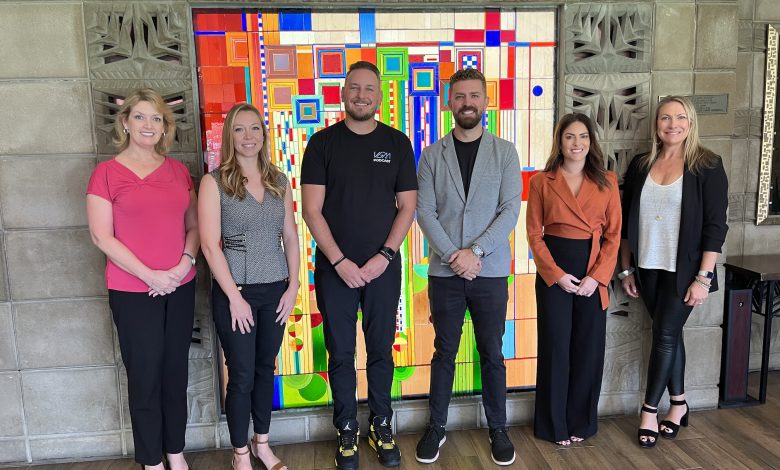 By David Berman | October 26, 2023
At BITAC Purchasing & Design West, which took place from October 22-24 at the Arizona Biltmore in Phoenix, a new wrinkle was added to the event through a partnership with Vibrant Management's "Virtual GM" podcast.
Spencer Halford and Cody Adent from Vibrant Management, as well as a small production team, attended the event to record live segments of their podcast. During the two days of meetings on Monday and Tuesday, Halford and Adent interviewed 11 hospitality executives on the BITAC meeting floor. 
On Tuesday morning, the pair took the stage during the breakfast session and recorded a live podcast in front of the BITAC audience. Joining them were Kristina Bade, Founder & Creative Director for Kristina Bade Studio; Jana Beekman Vice President of Design & Construction for Ayres Hotels; Jessica Heggie, Owner/Principal of Studio H Architects; and Jodi Sandler, Senior Design Director for Fontainebleau Development. The episode covered general design topics and specific questions to each executive about her respective experience.
The duo were aided by Blake and Mallory Norton, a couple who run production company Blue Form Media together. Kyle Aldridge, the social media director for Vibrant, was also in attendance to shoot photo and video content and post on the company's platforms.
Adent said he and Halford had no idea what to expect on how recording on-site would work. The pair had been to two prior BITAC events but Purchasing & Design West marked a big step up in their participation.
"I knew there was an idea or a concept of how we could do this, but we've never done it in this way," Adent said. "I was worried about the sound on the floor because there is a lot of commerce taking place. But when you listen to the audio, it sounds so good. You can hear the background noise, but it's almost a white noise that's muted. So for me, we exceeded our expectations in the quality of what we're able to produce and the frequency and speed of what we're able to do."
Halford said this event was a "full circle moment" and gave him and Adent a chance to contribute to the value of BITAC Events.
"This has been such a cool experience for us," Halford said. "When I look into the crystal ball of our podcast, I really see BITAC and events like this being a really big part of our trajectory and ultimately providing value and being a force for good in the hospitality space."
The pair said they had an excellent experience at the event and plan to return in the future.
"I've never come here and not left with new friends," Adent said. "It's not like you just come back and reconnect with the exact same people. Of course you still have those relationships, but every time, I've made new friendships that I didn't have when I arrived."
The Virtual GM Podcast is available on Spotify, YouTube, Apple Podcasts, iHeart Radio and anywhere else you listen to podcasts.