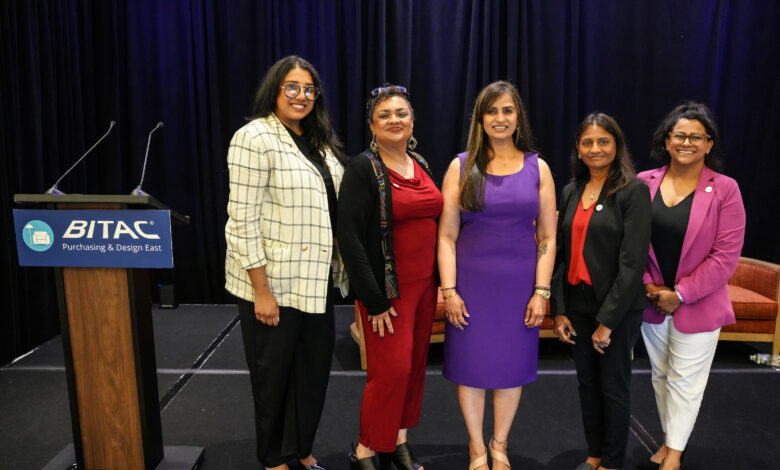 By David Berman | July 11, 2023
According to a study conducted this year by the School of Hospitality Management at Penn State University, representation of women at the highest levels of hospitality leadership is improving but still has major inroads to make. Numerous metrics illustrate this point; for example, at hotel investment conferences, there are 4.2 male chief officers for every female chief officer.
Attendees at BITAC Purchasing & Design East, which took place from July 9-11 at Omni Amelia Island in Fernandina Beach, Florida, experienced a discussion about this topic titled "Natural Progression: Women Hoteliers Help Drive Home Industry's Diversity Efforts." Lina Patel, Director of Strategic Franchise Initiatives at Red Roof Inns, moderated a 30-minute session with four panelists on the afternoon of the 10th.
Lina Patel first asked the panelists about the biggest challenges that female owners face in the hospitality industry. Mayuri Patel, Chief Operating Officer at DBA Red Roof Inn & Suites, said it is hard for women to receive equal financing necessary to purchase properties.
She told a story exemplifying this issue about a female colleague who attempted to secure financing from a bank. After not being offered a rate she felt was fair, the bank called her husband, not knowing that they were together, to offer a lower rate.
Mayuri Patel said that knowledge, numbers and confidence are the key components to overcoming inequities in financing.
"You better know your industry," she said. "You better have knowledge about it, because when you walk in there you should know what you're talking about and be credible. You should know your numbers because that's how they speak. You should be able to back everything up. The most important component is not those two, it is the confidence level. You have to have the confidence to walk in that room, know what you're asking for, and almost demand it."
Tejal Patel, President & CEO at Neem Tree Hospitality, said she feels women bring unique perspectives to leadership roles due to their versatility and problem-solving capabilities.
"Traditionally, women, we tend to wear a lot of different hats, right? We tend to problem-solve pretty well," she said. "We'll take our experience from one place (and) implement it somewhere else. I think those types of leaders actually make the best kinds."
Arti Patel, COO at Pristine Hospitality, agreed with Tejal, adding that emotional intelligence is a major strength of many women.
"With the labor shortage, everything that's going on, there's so many more opportunities," she said. "(We're) just wanting to get to know one another and try to feel compassion for the other and finding their like SWOT analysis, right. So what's your strength? What's your weakness? Most people don't do that. But as females, I feel like that's one of our strong suits. We want to know the person, not just have the job description."
The panelists discussed how there are more opportunities than ever for women to become hotel owners. Lina Patel mentioned that all the major hotel brands now have diversity programs geared toward women and minorities that will provide resources and funding for aspiring hotel owners.
One of the programs mentioned was HerOwnership, an Asian American Hotel Owners Association program launched by Lina and Tejal Patel last year. Tejal said the program means the world to her as she takes a leadership role in championing women in the industry.
"I get to be a leader in this initiative, because there were other women before me," she said. "What I get to do now is, the baton's in my hand, and I get to run as far as I can and just hand it over to the next person. So it's humbling, and it just means the world."
Purnima Patel, Owner of VAB Management, talked about how female empowerment programs within the industry also serve an educational purpose.
"It's mostly to help educate more women into being more self confident than depending on someone else," she said. "In our culture, what happens is, the women do all the work, and the men get the credit."
To close the panel, Tejal Patel said despite industrywide efforts, the work is just beginning to achieve equality and equity for women within the industry.
"I think there's work to be done for sure," she said. "I think even just us as organizations, (the) business owners here, I think we really kind of need to look inside our organizations and say, well, how are we actually being inclusive? So there's diversity right? Diversity is just the optics of it. Inclusion is really how you push the needle forward — are you involving them in the conversation?"