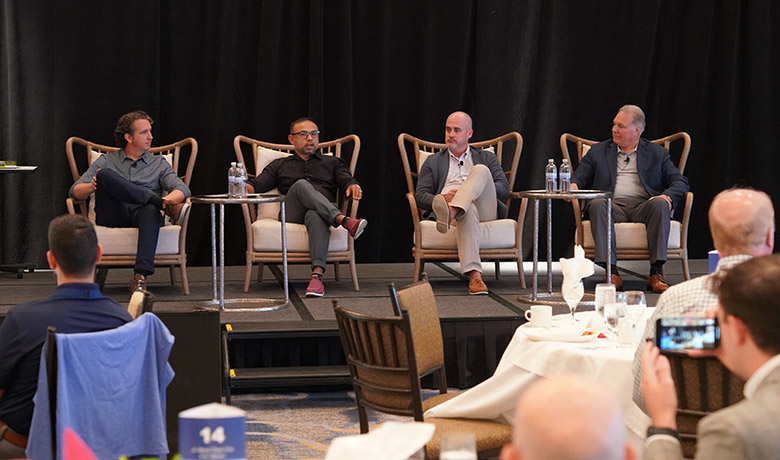 By Dennis Nessler | January 3, 2023
While the pace of hotel development has slowed considerably in recent months due to a variety of economic factors, both brand and owner/operator executives maintain there are still ample opportunities to fill up their respective pipelines.
Speaking at the BITAC Owner's event during a discussion entitled "The Power Of Pipelines: Top Execs Offer Update On Current Development Landscape," the panelists pointed to a number of challenges ranging from rising raw material costs to the availability of financing.
Nevertheless, the panelists were asked to project what they see ahead in terms of new construction activity in the next 12-24 months.
Gavin Phillips, SVP, Woven by Raines, noted his company's portfolio is primarily in the southeast, where the "operating and performance environment has been unbelievably strong" with the exception of the onset of the pandemic.
"People are still very excited and interested in doing hotels in the Southeast so I think that's positive. I can only imagine that the construction cost environment will be better [going forward], and the availability of materials and supply chain will be better," he said, adding the one uncertain element could be "what the lending environment is like."
Greg Burgett, regional vp, franchise development, Extended Stay America, also believes that "construction costs are going to go down."
Burgett was generally bullish on the development outlook. "I hope it's consistent to where we are now. We've got a lot of activity. I've got five on boarding next week and we've got 15 the following week. We've got a big pipeline and I hope it continues," he said.
For his part, Masud Khan, founder CEO, Khan Properties, believes the industry has to adjust to a new normal when it comes to the pace of construction.
"In terms of corrections, there's a lot of factors coming in and we don't know a lot of stuff. Considering what we have today I do not see things going to go back to before 2019, we should not even think about it. There will be a huge correction, but It's going to take time," he said, adding "workforce is a huge issue."
Bryan Easter, vp, development planning, Kimpton Hotels & Restaurants, added his perspective on some of the obstacles and how the company approaches development.
"There are always going to be challenges. I think an important perspective to maintain is focus on the guest experience and just make choices that drive revenue and connect the guest to the location that you've chosen to develop your property. It's not an inexpensive proposition to build new right now, especially in our segment at around $400,000 per key, so you just have to be thoughtful in how you spend the money," he said.
Phillips—who added the company generally pursues deals in tertiary and secondary markets within the Southeast—noted often times it has been external factors that have delayed construction.
"I think some of them are really more being held up from having to navigate the waters with the local government agencies and things of that nature and getting buy-in from the communities, towns and cities. That's what's probably slowed down [projects] more than lending or construction prices for raw materials," he said, adding "it's challenging right now for sure."
Burgett relayed a similar experience.
"The challenge we have now is there's a little bit of an issue with entitlements. Some of the cities put their nose up against extended stay. However, we've been very successful," he said, adding the company approved 51 projects last year alone.
With new construction projects coming with so many challenges these days, reflagging existing properties or adaptive reuse projects are a viable avenue of growth, according to the panelists.
"Conversions are a great opportunity to get into the market sooner and the fundamentals are pretty simple. You identify a market that you can get the RevPAR that you need to justify the spend, you have access to important urban touch points and be sure you get a good mix of corporate and leisure and a good box. With a good box you can accomplish just about anything. Kimpton has a history of approaching projects with an adaptive reuse mindset," said Easter.
Burgett also noted the company recently converted the vast majority of 111 WoodSpring Suites hotels that had been acquired by Extended Stay America to its newly launched Select Suites brand.
"I think there's some opportunities out there for conversions and maybe some transient assets," he stated.