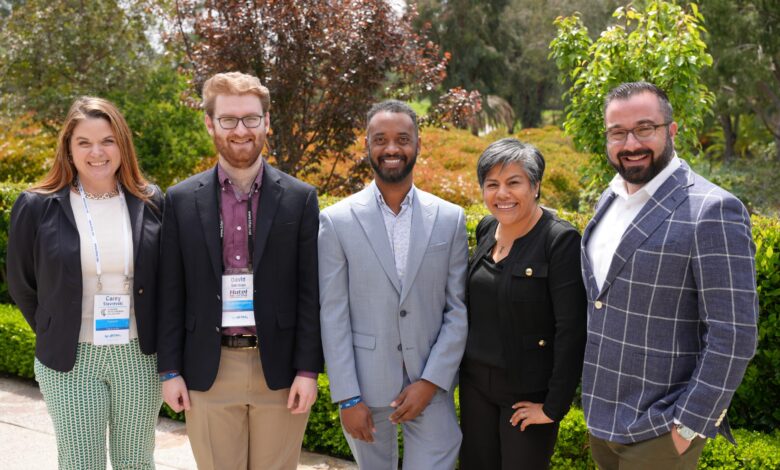 By David Berman | April 26, 2023
For just about every corner of the hospitality industry, labor is a top issue. According to the American Hotel & Lodging Association's 2023 State of the Industry Report, 79% of industry respondents indicated a staffing shortage at their property, and 22% identified that issue as severe as of January.
In the final of seven educational sessions at BITAC Operations at the Rancho Bernardo Inn in San Diego, four industry leaders spoke about labor issues in hospitality. The 20-minute panel was titled "Navigating Labor Shortages and Uncertainties in 2023."
The panelists were first asked to describe the current state of the labor market. Claudia Infante, Sr. Vice President of Revenue Strategy at Margaritaville, asked the audience to raise their hand if they don't have labor challenges. Not a single person did so, illustrating her point on what she feels is a dire situation. 
"I think the hospitality industry is in a state of emergency," Infante said. "We don't have enough people coming into the hospitality industry. I think if you look around the room, right, we've known each other for so many years, all of us, we need to bring young people and make them part of this industry because this is an industry of passion and of service. I don't think that the labor is going to get better if we don't bring the people that can deliver service with passion."
Ted Jabara, Regional Vice President at Meyer Jabara Hotels, wholeheartedly agreed with Infante, saying that some sectors of hospitality have become more difficult to hire for than others. 
"Sales is, I think, a wonderful example of a place where it's still extremely challenging to find a hospitality sales professional," Jabara said. "And you think why? Well, all the really good ones, they were selling your cars for three times the price they cost before the pandemic, they were selling you the real estate for twice the price. I am cautiously optimistic, though, that as our economy continues to shift, that some of these jobs, they may be looking to come back to hospitality."
Justin Robertson, Director of Information Technology at The Boca Raton, also agreed but with the caveat that he feels labor issues revolve more around retention than recruitment. 
"As soon as you get them, a few months after hiring them, then they leave for better opportunities … or they're expecting one thing getting into hospitality, and then they get in and it's a different reality," Robertson said.
Carey Stavrevski, Director of Account Management and Program Development for Curator Hotel Collection, said recruiters need to look past the "tried and true" university hospitality programs, taking steps to ensure that current employees feel they can grow within the company.
"You really need to think about different alternatives for how to grow leadership from within —  who is on your staff right now — to make sure that they understand that it's possible for them to someday be a GM or someday be part of the exec team," Stavrevski said. "And they might not realize that right now, but that is your best source for leadership in the future is to grow who you have right now."
Infante and Jabara spoke about organizational culture as a major contributor to retention. 
"Being engaged in your communities, having your eyes open to those opportunities and strategic partnerships, I think are key," Jabara said. "Because when that individual who's working two days a week sees their friend get promoted to be the shift supervisor; and then a few years later, they're the housekeeping manager; and seven years later, they just received their first promotion as a general manager. That's pretty powerful stuff."
The panelists, in line with the theme of other panels during the three-day event, also spoke about how technology can help improve recruitment and retention. Stavrevski mentioned an app that would allow employees to recruit friends and family, potentially building stronger communities within a workplace. Robertson said his approach is to treat an associate like a customer, investing in staff-facing systems that give them similar experiences to guests. 
When it comes to recruitment strategies, the panelists mentioned strategies such as social media outreach and college development programs. Robertson said understanding the competition for employees, not just in hospitality but in other fields as well, is a key differentiator.
"The perfect employee, they're not only looking at hospitality, they're looking at other interests as well," he said. "Some of the technology that we put in place is systems where we're leveraging information from other industries to say, okay, this is an entry level employee that we're positioning in this market. How does it compare not only to hospitality, our competition down the street, but also to every other entry level position within the area?"
To close out the panel, the four participants gave their final thoughts on the short-term future of the labor market. Infante said that industry leaders need to demonstrate their passion for hospitality to inspire the next generation.
"I don't know about you guys, but I don't think any of us woke up at 10 years old (and said) 'I want to be a hotel executive,'" Infante said. "Most of us fell into the industry, and we just loved it, right? We stayed because we love it, and I think that's the piece that we're missing in teaching young people to love the industry. It is very rewarding, but a lot of work."