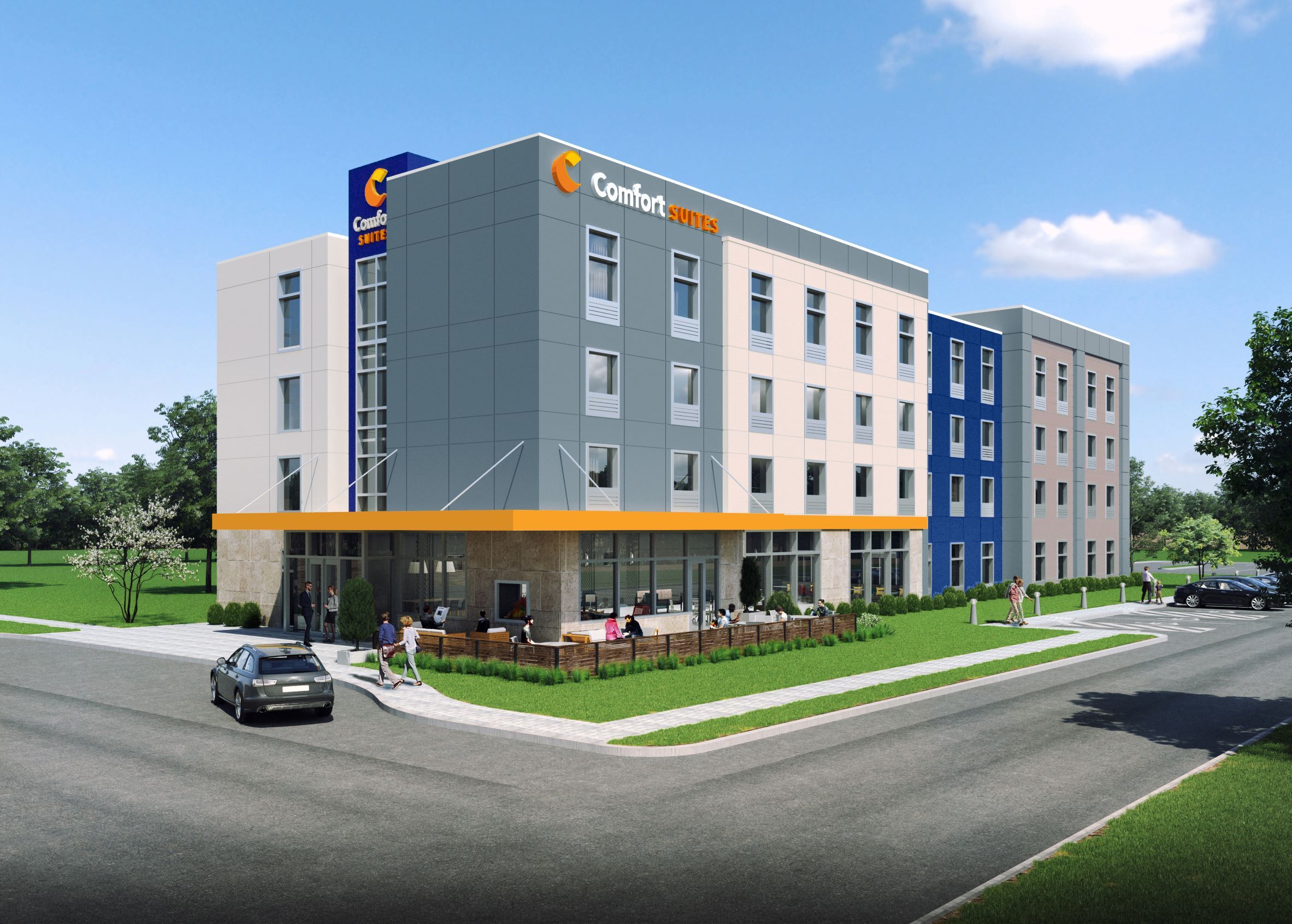 By Dennis Nessler | March 26, 2021
Choice Hotels International, Inc's multi-year transformation of its flagship Comfort Inn brand culminated yesterday in the unveiling of a new prototype aimed at providing a more efficient footprint, innovative functionality and fresh design.
The upper-midscale brand—which is celebrating its 40th anniversary this year and now includes more than 1,600 hotels in the U.S.—detailed its Rise and Shine prototype in a media conference call yesterday.  The first new construction Rise & Shine prototype hotels are expected to open in 2023.
Pat Pacious, President and CEO, Choice Hotels—who pointed out the company was originally poised to launch the new prototype at this time last year just prior to the pandemic—enthusiastically touted the changes to the brand.
"It's pretty exciting for a 40-year-old brand to turn a new chapter and really to start to look at the future and where the brand is headed," he said, later adding, "this prototype is really going to help the Comfort brand maintain its leadership position in these [midscale and upper-midscale] segments for many, many years to come."
Pacious further explained the motivation behind the new design.
"It's really designed to meet our new guest expectations, the guest of tomorrow, and to make sure that our owners are also experiencing the proper returns that they expect as well. So this new Comfort Rise and Shine prototype is the future of the brand and it really delivers on that same warmth and welcoming personality," he said.
According to the company, an efficient footprint includes reduced square footage delivering elevated fit and finish while maintaining Comfort's cost-effective operating advantage.
From a functionality standpoint, Choice maintains the prototype features versatile spaces that can create additional revenue opportunities from a welcoming outdoor porch to an innovative new flex room that easily transforms from additional breakfast space to meeting and event space.
The Rise & Shine design package comes in three color schemes, enabling developers to customize to fit the needs of their local market. The City is defined by the company as bold yet approachable with rich wood tones and an energized color palette. Sea is calm and soothing with muted colors and light wood tones. Finally, Sun is designed to be vibrant and cheerful with a relaxed, yet optimistic feel.
The new prototype was designed in response to evolving guest needs with tailored spaces for travelers to relax, work, sleep and get ready for their day, according to Choice. Some of the updates include:
Outdoor patios anchored by an indoor/outdoor fireplace, designed to give guests a warm welcome and make them feel at home.
Open, airy and active public spaces with high ceilings and floor-to-ceiling windows to maximize natural lighting.
A multi-purpose flex room that seamlessly converts to serve a variety of uses.
Guestrooms featuring upgraded fixtures and furniture, including semi-open closets and new "on the go" stations at the door.
Functional yet uplifting lighting throughout the prototype including the front desk welcome wall, public space millwork shelving, exclusive up-lighting on the guest room headboard wall and media panel and on the prototype exterior.
In terms of development, the Comfort Inn brand has a pipeline of nearly 300 properties, roughly 80 percent of which are new construction, according to David Pepper, chief development officer, Choice Hotels.
"The launch of this prototype further solidifies the brand's positioning for future growth and competitive outperformance. We're providing developers with a cost efficiency they expect, along with the flexibility they want with this new prototype. It's flexible, innovative and cost-efficient and it complements the existing portfolio," said Pepper.
Pacious, meanwhile, noted that the multi-year, $2.5 billion transformation of the brand included a new logo and signage, upgraded guestrooms and public spaces and more than 600 properties exiting the system because they weren't up to standards. He further reported that the chain has now returned to roughly 2 percent unit growth domestically.
"Our strategic investment in this brand is really paying off. If you go back and look at our fourth-quarter performance last year the RevPAR index gains for Comfort far exceeded its local competitors by 9 percentage points. Because of all of the investments that our owners put into the brand even during a pandemic year we saw significant outperformance and significant share gains versus our competitive set," he said.