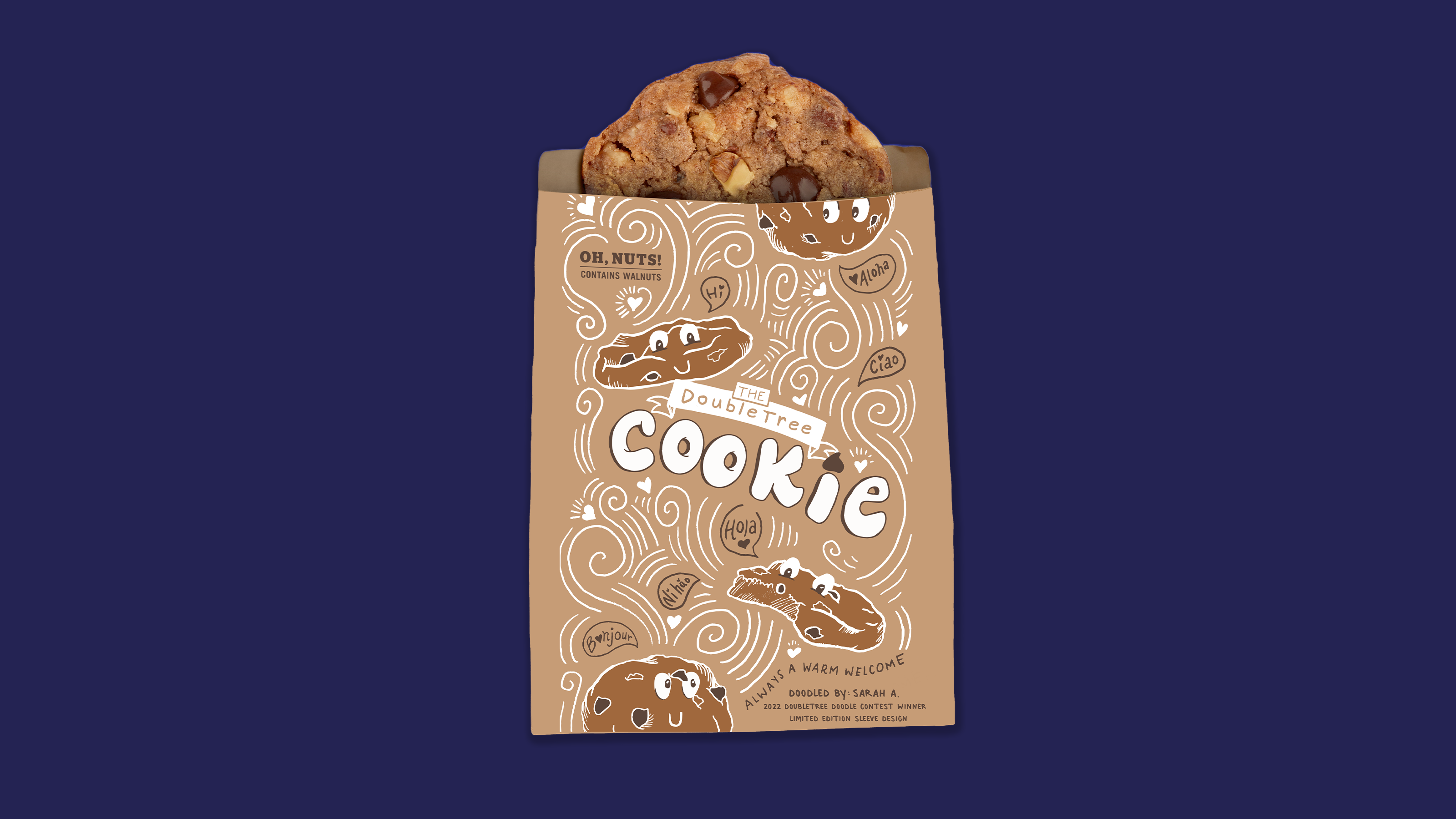 Frequent guests at DoubleTree hotels know they can expect a delicious and warm chocolate chip cookie when they check in. But starting last month, those cookies will now be received in a special sleeve. 
Through a contest last year, Sarah Allgire, an artist and mom who lives in the Columbus, Ohio, area, created a fresh design for DoubleTree's cookie sleeve. 
Allgire said her typical work is for in-house creative teams, but she also works on personal projects on the side. Last year, she published a book with her mom and sister about how to make stained glass 
Allgire said she heard about the contest through an Instagram post on the DoubleTree page.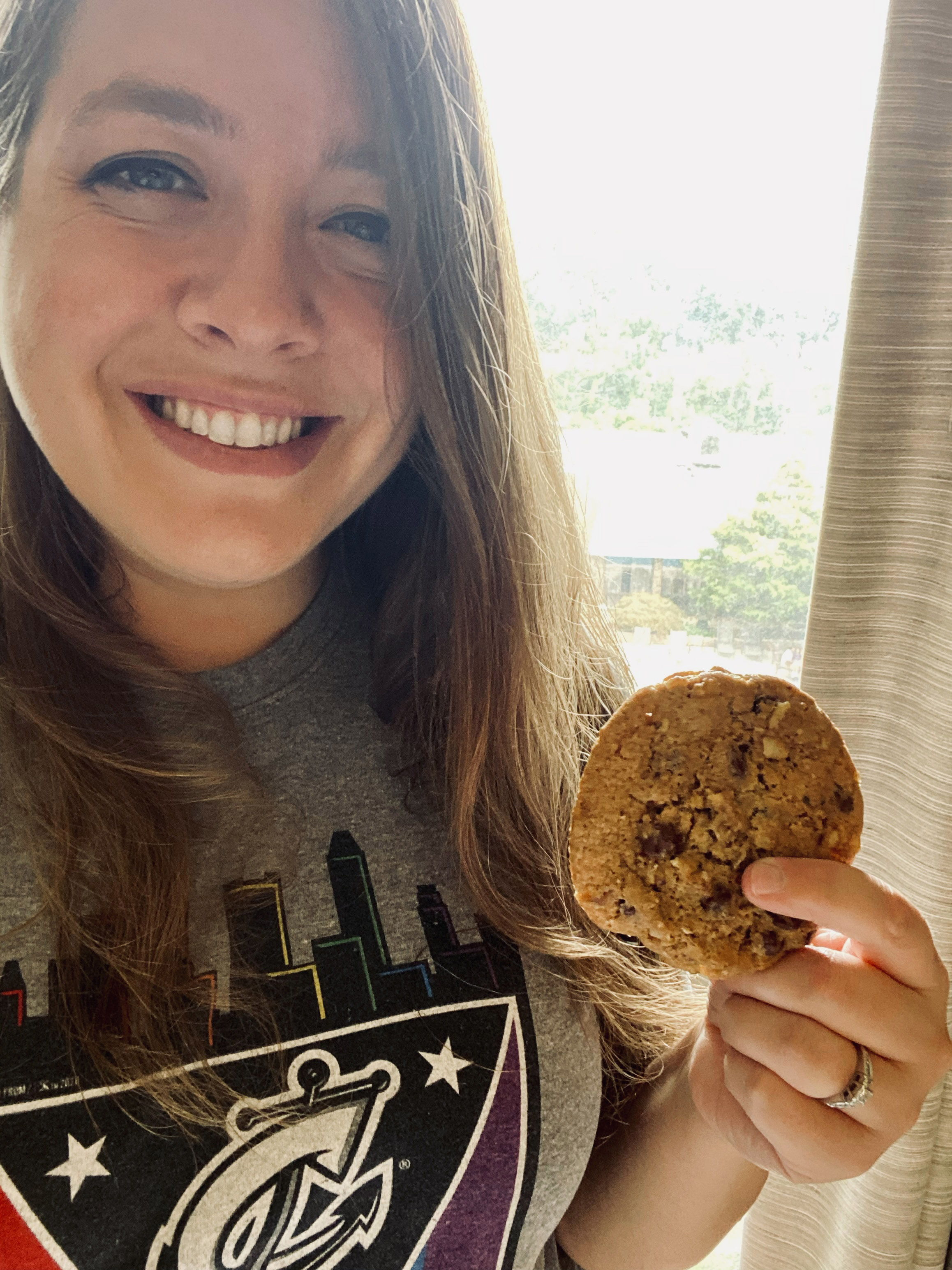 The prompt for contestants was to show, in a doodle, "what a warm welcome means to you." As Allgire was pondering that idea, she said she thought about communication and connection. That's how the idea was sparked to include words of greeting in six different languages — spoken by cartoon cookies.
"I was thinking about feeling welcoming and how speaking to people in the language that they might speak would make them feel welcome," Allgire said. "So I tried to incorporate that. I wanted it to be whimsical, and kind of have the cookies come to life and really be ambassadors that connect with travelers in those languages."
English, Spanish, French, Hawaiian, Italian and Chinese are represented on the new design, Allgire said. 
A self-described procrastinator, Allgire said she took a while to think about the prompt before starting on her design. She began with some rough sketches, and then created draft after draft until she was satisfied with the final product. 
"I am a late night doodler — after I put the kids to bed, that is when that happens," she said."
The contest opened on August 4 — National Chocolate Chip Cookie Day — and was open for two weeks. From there, an internal judging period by DoubleTree by Hilton team members to narrow down the submissions to five finalists was followed by a public voting period on Instagram and Twitter. Allgire was announced as the winner in September, and her design was officially rolled out at DoubleTree locations across the country in January. 
The contest came about as a way to celebrate guests' passion for the DoubleTree cookie, a spokesperson said. 
"The DoubleTree by Hilton chocolate chip cookie is a fan-favorite and has become a part of DoubleTree by Hilton's identity in hospitality, providing guests with a warm welcome the moment they walk through the doors," the spokesperson said. "Hilton wanted to launch a contest that would allow our passionate and loyal guests an opportunity to showcase their love for their favorite treat when traveling."
When she found out she won the contest, Allgire immediately shared the news with her family. Her kids, big fans of the signature cookies that their mom's design would soon adorn, were excited. 
"It's overwhelming," Allgire said. "At first you're like, really? I was very honored to have been selected."
Allgire's rewards for winning the grand prize are one million Hilton Honors Points, five free nights at any DoubleTree property around the world, a $1,000 gift card from Delta Airlines and, naturally, free DoubleTree cookies for a year. 
Allgire will use these rewards to travel to all 30 Major League Baseball stadiums — her husband is a baseball coach and her kids play baseball — and take a family trip to Hawaii. 
"I just want my kids to experience different cultural things and just see the world and learn about different places and open their worldview," she said. "So I'm excited to be able to do that a little bit more frequently."