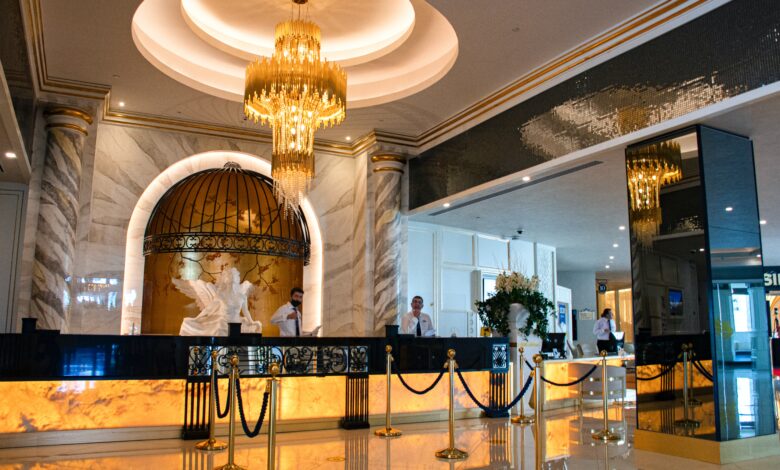 Stories
Growing Nightly Rates Means Strong First Impressions
By Larry and Adam Mogelonsky | September 22, 2023
When developing a strategy to grow your nightly rates over several years, we often advise hotels to look at what luxury properties are doing. For these sorts of brainstorming and expectation-setting sessions, it's crucial to accept that luxury guests have an abundance of choice; they can and will be picky. While the competition may be limited within your local market for this hotel category, luxury travelers have the financial means to explore practically anywhere, extending far beyond the confines of your immediate area or specific segment.
This versatility in choice means that luxury consumers have disproportionally high expectations. To start catering to this level of discerning customer, it's essential to shift away from a purely cost-focused approach. Sometimes you have to spend a little more to make a lot more. In this approach, we consider the guest persona and their expectations before actually increasing the rates and testing or backtracking, while understanding that we are in it for the long haul.
Consider these guest attributes as you move up in price:
Sophistication. Your guests will be more well-traveled, globally oriented individuals who anticipate the same level of excellence they encounter at the world's leading establishments in other territories where service levels may be higher.
Better Than Home. Luxury guests have decadent personal residences festooned with fine art and the latest tech gadgets, so your goal should be to at least match the quality they're accustomed to back at home front.
There's obviously a lot that must be done to elevate the guest experience in order to command higher rates, but per the title let's focus on just the arrival. Here's our motto: the start of the experience sets the pace for the rest of the experience. This obviously is known as 'first impressions,' and yet we can forget how hard it may be to recover when you don't get off on the right foot.
Put yourself in your guest's shoes. Today's end-to-end travel experience often involves crowded airports, security lineups, ground transfers, traffic jams, jetlag and hauling luggage. It's stressful and draining! Even for those flying business or first-class, travel can be exhausting; this is a near-universal truth nowadays. Therefore, your property should not just be a destination; it should offer a respite from the rigors of contemporary travel by having a strong 'sense of arrival' to set the mind at ease.
When your guests arrive, ask yourself:
What do they see first?
Are they greeted by valet, bellhops or anyone else to suggest a feeling of protection?
Are you making them cram through narrow doorways?
How do the lobby, entryway and even welcome refreshments engage their senses?
Consider fresh flowers in the lobby. Let's draw inspiration from Four Seasons Hotels & Resorts. In the numerous properties of theirs that we've visited globally, fresh flowers are a brand standard that never fail to disappoint. This practice extends beyond Four Seasons, as hotels in destinations like Las Vegas, such as the Wynn/Encore and ARIA, incorporate extravagant floral arrangements that double as tourist attractions or Instagram fodder. The intention here is sensorial activation upon arrival – pleasant, almost subconscious scents with striking visuals, all to set the tone for a great stay ahead.
However, it's not just flowers that can create a memorable arrival experience. The William Vale in Brooklyn, for instance, features a custom-designed art mural in its lobby. The Logan in Philadelphia captivates guests with art throughout its public areas. And the Hazelton Hotel in Toronto boasts an extensive art collection, including a fascinating sculpture gallery in its lobby. These elements may involve a considerable amount of both capex and opex, but they leave an indelible impression that sets your property apart. Importantly, it sets the pace, ensuring that guest expectations are on track with the higher rates you want to command.
Beyond the physical aspects, every arrival involves some form of greeting or staff-guest interaction. This process can encompass a car valet, doorman, bellman and guest services team members. Achieving a seamless arrival experience requires meticulous coordination, reassuring guests that they've made the right choice. This is the classic 'service with a smile' adage wherein we want passionate people upfront with guests. To accomplish this is requires a deft balance of training, good HR policies, fair wages and great team dynamics (sometimes attributed as corporate culture).
For instance, The Savoy in London is renowned for its impeccable, consistent greeting process, treating all guests with clockwork precision. Similarly, the Peninsula Beverly Hills stands out for its front desk agent who not only completes check-in but also personally escorts guests to their rooms, providing valuable insights into the property.
So, when it comes to growing ADRs, first impressions make an immense impact. We encourage you to scrutinize your lobby from a guest's perspective. Whatever you can glean from your GSS should be treated as sacrosanct. Understand your guests' likely experience, record videos on your cellphone and review them with your executive committee. Observe how your lobby staff interacts with guests and seek input from your management team to establish a standard that creates immediate, positive memories.