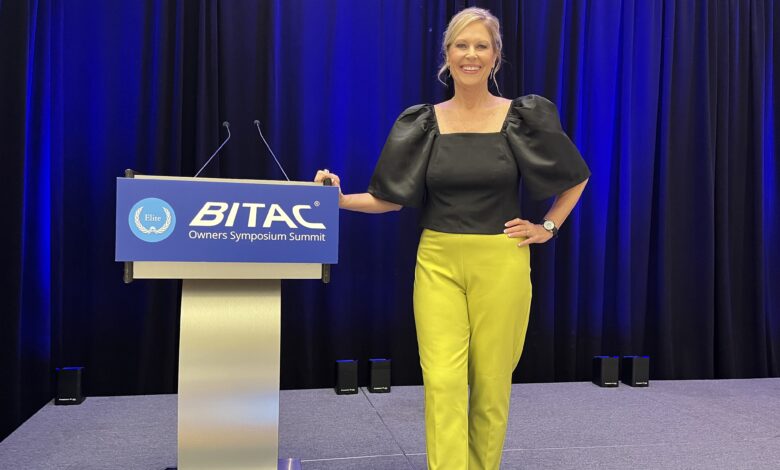 Stories
BITAC Owners Symposium Summit Keynote: Streamline Leadership
By David Berman | October 10, 2023
Many styles of leaders were in attendance at BITAC Owners Symposium Summit, taking place from October 9-11 at the Playa Largo Resort & Spa in Key Largo, Florida. During the first morning of the event on Tuesday, these hospitality executives experienced a keynote speech that may have changed their view of their own leadership styles.
The session was hosted by Deborah Gardner, a motivational keynote speaker, founder of three businesses and author of six bestsellers. She is a former sports broadcaster for CBS and was named as one of CNN's top 75 keynote speakers worldwide.
Gardner began her speech by running down what she feels are the five different types of leaders: the dictator leader, the promoted leader, the skilled leader, the paycheck leader and, the optimal type, the streamline leader.
"A streamline leader is a powerhouse of decisive action, driving the implementation of effective processes to advance and create high-yielding working strategies and guiding principles that lead to a successful outcome," Gardner said.
By her own definition, streamlining is a focus path that is created through a flow of movement where it's least resistant. Gardner said that streamline leaders know how to come up with efficient working strategies.
Gardner's main example of a streamline leader is Deion Sanders, the current head coach of the University of Colorado Buffaloes football team. Sanders is a former NFL and MLB athlete and has quickly shot up the ranks of the college football coaching world, culminating in a so-far successful turnaround of a moribund Buffs team in his first season.
Sanders' transparency, commitment and impact on the team's culture have impressed Gardner. She said she looked more into his meteoric rise and had a conversation with a sports agent relative of hers who boiled it down to three factors that were organized in an "ABC" format.
Gardner had the attendees follow along with this part of her presentation on a fill-in-the-blanks sheet. The "ABCs" of Sanders' success are Action, Believe and Communication. For each letter, she discussed how Sanders' example can be used in hospitality to optimize day-to-day business.
To illustrate the importance of communication, Gardner conducted an insightful exercise. Each audience member was given a blank sheet of yellow paper. Gardner had everybody hold up the paper and close their eyes while she gave directions on how to fold and tear the paper. The directions were just broad enough that when everybody opened their eyes, there was a wide range of outcomes for how the paper looked.
Gardner used this exercise to convey how important clear communication is from a leader — but also that communication is a two-way street. She acknowledged that her directions could have been clearer, but she pointed out that nobody in the audience asked any questions.
"You can have all the strategies, the products, the culture, services in place, but if you cannot communicate effectively, all bets are off," she said.
Gardner said she feels the hotel industry can absolutely have a "Coach Prime" style figure, and that his example should inspire more hospitality leaders to adopt the streamline leadership model.
"I want to see more of this in our industry," she said. "This is how we're going to get people to talk about us. We don't want people to go to other industries. We want them here with us, but it's only going to happen if we get more streamlined leaders here."
The session wrapped up with another exercise, as each table of attendees group together to discuss questions under the Action, Believe and Communication theme before sharing their responses with the room.
Throughout her 45-minute speech, Gardner empowered attendees to think about how they can implement the streamline leadership philosophy within their companies.
"What's your game plan from here on? Take this seriously, because, again, we need you leaders to step up in this industry and help us create the new norm, not follow what the norm is," Gardner said. "Create it yourself."