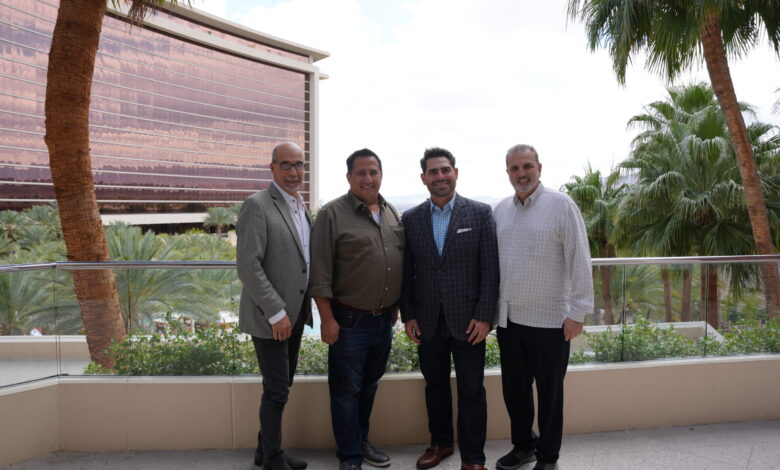 By David Berman | June 16, 2023
At the most popular and prestigious casino resorts, guests can choose from a myriad of dining options in between stops at the slot machines and pool. Each property tries to strike a balance of cuisines, styles and price points to keep the guest happy and well-fed during their stay.
Attendees at BITAC Casino Resorts, which took place from June 12-14 at the Red Rock Casino Resort & Spa in Las Vegas, were treated to a delicious discussion about food and beverage operations in casinos during a panel discussion titled "The Realities of Managing Multiple 'Independent' Restaurant Operations in Gaming Properties.'" 
Nick Bellini, Chief Sales & Marketing Officer for No Brick LLC, moderated the panel on the afternoon of June 13. He began the panel by asking the three panelists about leasing restaurants in their properties versus self-owning. Christopher Lee, VP of Culinary Operations & Restaurants for Wynn Las Vegas, said Wynn prefers to self-own whenever possible.
"For Wynn, in the past and to the present, we take a lot of pride in self-operating," Lee said. "We do have some third party relationships, it doesn't mean we're not open to it. But I think our preference is going to be to do our own venues, create them, and concept them."
Bellini asked Joe Maloney, Vice President of Food & Beverage at Cache Creek Casino Resort, about creating F&B concepts in a market outside of Las Vegas. Maloney said the main customer base for the resort, located in Brooks, California, comes from the Bay Area. The resort team focuses on the consumers' wants, conducting many focus groups and surveys to help shape their dining options. 
"I think the key is doing your research," Maloney said. "I think a lot of times we've made the mistake of (doing) what we want to do when we don't really take the time. That's what I've learned, is to really research what's new in the area."
Corey Nyman, Vice President of Operations at Nyman Group Ltd., said a lot of casinos aren't viewed as community centers. He added that operators really want to change that and get locals coming out to eat there. 
Lee and Maloney also touched on employee dining, as that has become a big focus to maintain employee satisfaction and engagement. Lee said it's important to provide fresh, healthy meals in the employee dining room (EDR); Wynn also implemented a monthly farmer's market for employees to participate in. 
"Our EDR is an employee benefit and retention (tool)," Maloney said. "Today, how we fight for employees, we want them to feel when they go to our EDR, they're eating at a restaurant."
Bellini then segued into a larger discussion about labor in the casino F&B space. Nyman said it's crucial to engage with HR and go out into the community to find young people interested in the industry. An F&B job can be the first stepping stone for a young person to start their path in hospitality, he added.
"It goes back to mentorship and involvement and speaking to your local programs, getting involved with grassroots," he said. "Even if you touch one student who really is engaged in hospitality, bring them into the fold now, and get them tours of your local operations. That's really it."
Nyman wrapped up the panel by advising the audience and his fellow panelists to plan ahead and take a step back to see the bigger picture. 
"Have perspective," he said. "Just have perspective that we've been through good times, we've been through bad times. This is our industry; we plan for the bad times. We put in systems and put in these elements we've done, and have perspective (so we can) move forward."