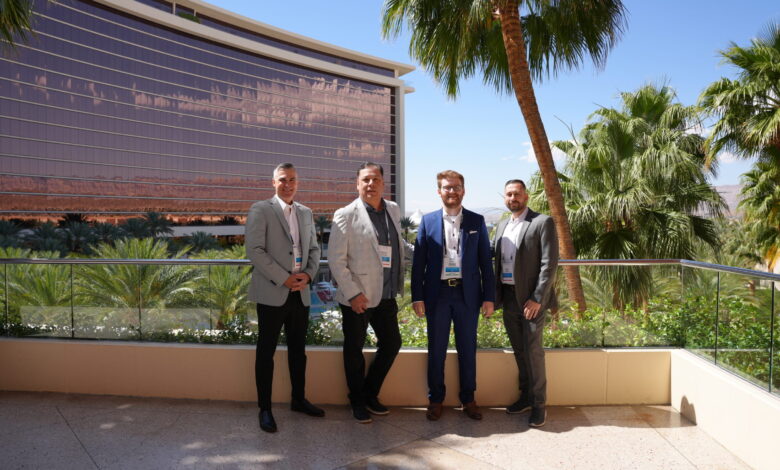 By David Berman | June 20, 2023
Coming out of the COVID-19 pandemic, the casino resort space is well-positioned for growth. Attendees at BITAC Casino Resorts, which took place from June 12-14 at the Red Rock Casino Resort & Spa in Las Vegas, experienced a discussion about the state of casino resorts. 
Titled "How the Casino Resorts Space Looks in 2023," the panel covered multiple broad topics, including technology, labor and the industry's post-pandemic outlook over 25 minutes. 
The first few questions covered the pandemic, as panelists discussed how it impacted their respective companies. Gary Vickery, Vice President of Operations for Plaza Hotel Casino Downtown Las Vegas, said the property had about 60% of its workforce return after re-opening from the pandemic. Some departments, such as housekeeping, haven't fully recovered. 
Rich McNeal, Director of Sales – Global Gaming for Cendyn, said some of these post-pandemic labor problems can be solved through technology. Automation for certain services, like checking in guests and answering questions, can help fill the gaps left by an unfilled staff. 
"Coming out of the pandemic, when you have less staff or (costs) are more expensive, why are you focusing valuable human resources on things that can easily be shifted to an automated type of environment?" McNeal said. "I think (if) you took a step back and looked at what physical resources you had on property and what those folks were actually doing, and then obviously shifting that and saying, 'I'll spend a little money on a service that I can use to automate something', and then re-allocate those human resources into doing something that's a lot more valuable."
Patrick Packineau, COO of 4 Bears Casino and Lodge, agreed with McNeal, saying that the pandemic taught him areas where they didn't need as many people to operate. 
"It really made us step up to the plate and really re-vision our whole company and really streamline it into running a lot better," Packineau said.
The conversation briefly shifted into artificial intelligence, as the panelists were asked about the potential of integrating AI into casino resorts. Vickery said he foresees using AI for security, managing call volume, responding to user reviews and more. 
"At some point, it might be answering on a slot machine, when a guest wants a Jack and Coke and they push a button, order the Jack and Coke and it brings it right to the server," Vickery said. "The possibilities are there. It's just making sure that it's proven and everybody can feel comfortable with it."
McNeal said his organization uses a "crawl, walk, run" philosophy with automation and AI implementation. 
"You don't need to go 0 to 60 in like, two seconds here," McNeal said. "Don't automate everything overnight. Let's ease into this process because you have customers to worry about that are used to doing things a certain way."
To wrap up the panel, the trio discussed more challenges in labor recruitment and retention. Packineau mentioned investing in benefits such as employee housing as a strategy. Vickery said that as a downtown location, the Plaza Hotel has to ensure its employees are well-paid and well-treated to keep turnover low compared to Strip properties.
"I think it's just a matter of making sure that your team members, which are our guests as management, are recognized and making sure that they feel part of the team and respected so that they're not looking for other employment," Vickery said.