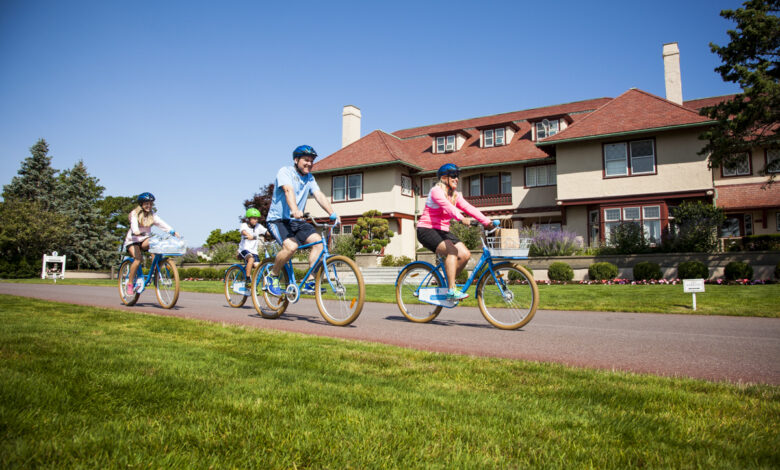 Lead Stories
Ocean Edge Resort Executive Brings the 'Fun' in New Position
Those who contest all work and no play makes for a very dull person won't get any pushback from Brandon Katz, who right now likely is the least-dull, most-stoked lodging executive on Cape Cod. And he can thank his wife for it.
Since November, Katz has been parlaying his skill set—more than a decade's worth of expertise in hospitality recreation—at Ocean Edge Resort & Golf Club in Brewster, Massachusetts, where he has the envious title of Director of Fun for the 429-acre bayside property.
"We wanted to enlist someone who could help us take our programming at the resort to the next level," said Robert J. Newman, CEO of Corcoran Jennison Hospitality, which owns and manages the property. "We were looking to prioritize creativity and bring new life to existing offerings while implementing brand-new activations to cater to our different guests."
Katz credits his wife, Yvonne, with putting him on the path to his current post.  "My wife happened to be scrolling through jobs and came across this position and told me about it."
The serendipitous find ultimately found Katz applying for the newly created position, which, said Newman, generated "a good amount of interest from a variety of unique backgrounds."
"What appealed to me the most was the freedom to create programs," said Katz, who decided to decamp from his job as Recreation Director at Chatham Bars Inn and head 10 miles north to take on the challenge of being Ocean Edge's first DoF.
Katz came well equipped. Backed by a degree in physical education and recreation his career path includes directing adult sporting programs at the college level and working with the City of Charleston (S.C.) as assistant director of operations. He later transitioned to hospitality, serving as Recreation Supervisor for Wilderness Presidential Resort in Spotsylvania Courthouse, VA; Senior Recreation Manager for Landsdowne Resort & Spa in Leesburg, VA;  and Recreation Director at Eagle Rock Resort in Hazleton, PA.
"Our goal," said Newman, "was to bring someone on at the end of our 'Sweater Season'—our colder months—to become familiar with the property and operations prior to heading into our peak season in the summer. We wanted to make sure we had enough planned for that, and that our new Director of Fun would have plenty of time to be acquainted with everything."
Toward this, Katz wasted no time settling in. "I started doing some small activities such as trivia night, build a burger, guac-off competitions and then got right into Christmas [activities] such as booking carolers, Bear Factory [similar to Build-A-Bear], cookie decorating, gingerbread-house-making and more," he recalled.
Since then, Katz' imagination has been in overdrive, developing experiences to resonate with the range of guests, both repeat and potential, who have Ocean Edge on their radar. The resort traditionally welcomes families, singles, couples, groups and weddings, with the majority being nearby Boston residents. Guests may choose among the 342 guestrooms provided by the resort's AAA Four-Diamond The Mansion (a member of Historic Hotels of America) and The Villages, a collection of villas offering one-, two- and three-bedroom options. 
Katz readily acknowledged he's no one-man band.  
"I do have a team of directors that I sit down with and bounce [around] ideas, with the Marketing Director in the room," Katz said. "Once we have a plan in place we get it promoted as fast as we can. Separately, I also sit down and brainstorm with other departments, such as our F&B team. Ideas include a 'Chopped' competition for our guests, Cinco de Mayo games and dinner, a casino night and a poker night. I've also sat down with the golf department and come up with new ideas."
Incorporating the resort's Nicklaus Design golf course as part of the overall "fun" led to some interesting experiences. In addition to activities such as a chip-and-putt competition, the DoF developed "Glow Golf," which was played from 7 to 10 p.m.  
"We had sticks lighting up the course itself, on the practice putting green and on the chipping green," said Katz. "We even gave out glow sticks to everyone as well." 
"Giving" is one of the operative words when it comes to some of the resort's diversions, and has given Katz a strong foundation on which to build. A summer staple has been its private tours to nearby oyster farms. From Memorial Day to Labor Day, guests booking the adventure can learn more about the surrounding aquaculture of oysters and the approximately 12,000-acre Brewster Tidal Flats. With each tour, the resort donates $25 back to local oyster bed enterprises.
Similarly, the resort hosts a charity event dubbed "Build A Bike" in which supervised guests/corporate groups assemble a snazzy two-wheeler that Ocean Edge subsequently donates to a local children's center.
Newman, an industry veteran and award-winning hotelier who has served as General Manager of the resort and golf club since 2008, noted it was important to get creative with indoor events during the winter and early spring. The CEO cited two DoF-involved guest experiences that were well received.
"While we're still ironing out new, creative programming as Brandon has only been with us for about six months at this point, we're already seeing increased engagement on property, such as with our Winter Bounty Series, which he was able to support as soon as he joined our team," said Newman. 
The series offered one-hour cooking demos held Saturdays at The Mansion, with a seasonal menu that changed weekly. The $50 per person charge included samplings of the foods prepared, accompanied by wine.
Another, more recent, hit was April School Vacation Week, which ran April 15-22, and offered a curated schedule of kids' and adults' activities daily. Many of the activities were complimentary, such as pickleball, mini-golf on the beach, pool volleyball, croquet, corn hole, a scavenger hunt, beginner and intermediate tennis and biking. Experiences with per-person fees included: an adult tennis clinic ($35), Bear Factory ($25-$35), archery ($15), paint class ($40), a drive, chip and putt challenge ($25), Glow Golf ($25), Junior Golf Academy ($25), a mixology class ($35) and a glass-etching class ($20).
Newman observed "this kid-focused week of dedicated and innovative programming has been a good example" of the variety of events and creativity the resort is embracing.
"The thing I love most about this property is that everyone is always open to new ideas," said Katz. "I have learned that every department will work with me and help me turn [an] event into a success…everyone is always on board in trying new activities with me."
Creative minds open up all sorts of potential for a property, not the least of which is a possible boost in occupancy and rate, something Newman said he anticipates seeing in the months ahead.
Katz added the resort itself inspires him as he looks to add more innovative and interactive programs. 
"When I go to the beach I think of mini-golf," he said. "If I go to the driving range, I think of a drive-in movie using golf carts. Every location on this property helps me be creative."
"It's great to engage different audiences in fun, new ways and have a fresh perspective at the table," observed Newman. "The ideas Brandon has to offer in this capacity serve to keep things interesting at Ocean Edge, and help make sure we don't become stagnant in terms of our programming and the guest experience overall. It's truly fun to consider new ways of having 'fun.'"
And what does Katz find the most fun about being the DoF?
"There are many things I love about being the Director of Fun," Katz said. "I get to be myself and come up with new ideas that most resorts don't get to offer. I also get to work with such an amazing staff; everyone wants to be involved in some form or another. And I am really grateful for that."