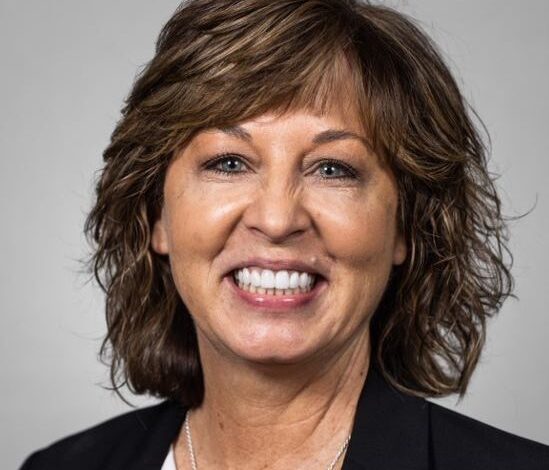 Stories
Engaging with Executives: Crescent Chief Commercial Officer Dawn Gallagher
By David Berman | May 12, 2023
Our Engaging with Executives series consists of one-on-one Q&As with executives around the hospitality industry, breaking down recent trends and news in their companies and the industry as a whole.
Today's interview is with Dawn Gallagher, Chief Commercial Officer at Crescent Hotels & Resorts. Gallagher began her career in hospitality behind the front desk of the Phoenix Park Hotel in Washington D.C. in 1986. She has worked for the Vista Hotel in D.C., Boston Park Plaza and Omni Shoreham in D.C., later transitioning to the executive side at Starwood Hotels & Resorts and Interstate Hotels & Resorts. She has been with Crescent since 2016. 
In this Q&A from April, Gallagher discusses her current "dream job" at Crescent, lessons she's learned from her almost 40-year hospitality career and the changing landscape for female leadership in hospitality.
Hotel Interactive: I've heard from a lot of executives in the industry about how they started out like you did, at a front desk, as a bellman, really the ground level of a hotel. I'd love to hear just a bit more about your experience there and how the lessons that you learned from that experience informs what you do today.
Dawn Gallagher: When I was a front desk clerk, I always wanted to know where I was at and where I was going and why I would go in that direction. You start off at the front desk, it's highly engaging, and also highly transactional, but it's also a high level of, you got to solve problems very, very quickly, and you got to understand how to think quickly on your feet. I love that piece of it. I love that piece of the energy of a hotel, but I also loved connecting with the customers. 
And so in my mind when I was a front desk clerk, of course I said, "Well, my next role should be a general manager, but I'm certain somebody's going to think that I need to do something before being a general manager. So what is that front office position, and what do I need to do to get to that position, to that next step?" And so while I was at the front desk, I was trying to get training or stay longer with a gentleman that I worked for on, what are you doing and how are you balancing the books and what does this mean? I need to know that I'm ready for it when it kind of goes into that direction. In a small hotel (like) the Phoenix Park, sales for a small 87-room property, it's not a big job. It felt more transactional for me. So I really felt like I was going to stay in operations, become a GM and continue to move around the country and be the best GM that I could be everywhere. 
But when I was at the Vista and when I went into reservations —- a bigger hotel, started connecting with convention services, started connecting with sales — I really started to understand the sales connection, mainly because I'm the middle child of three, and my older sister is only 10 months older, and my younger sister is only 15 months younger, I find the need to be competitive and understand these things quicker. So I loved understanding how everything went, from driving market share to driving average rate to, how do I look at this on a data spreadsheet understanding where to go. Mathematically I can see where to go but now somebody needs to tell me how do you make that happen? I loved understanding and learning those pieces. 
When I became the reservations manager, it was really, to me, on this path of still going to (the) front office and gonna become a general manager. But it was when I was reservations manager that I really felt like I was tilting toward that sales side more and understanding the sales side and understanding how to better work with them to, again, build the right foundation for the hotel to be most successful. So you kind of go through these different twists and turns.
HI: Moving into your experience with brands and branding, I'd be curious to hear your perspective on what you feel brands have to do today to really stand out from the competition. We're in the age of social media, we're in the age of the internet, how does that also relate to the issues of brands?
DG: You know, there's an amazing job that the brand has to do to perform. So we're sitting here, to your point, in 2023. We went through COVID, we went through massive layoffs on the brand side. Actually, Crescent as a company did not furlough anybody at the corporate level because we knew that the brands were handicapped by being furloughed, so we needed to figure out how to provide more support on our level to make sure that the hotels can continue to drive RevPAR success. 
I think brands today are better brands than they were previous to COVID. I think that they're more tuned in. I think that they listen better, and they really understand where the management company is coming from, to partner with us to make things better. I'm not going to say that they never did that because that would be wrong to say that, but I do believe that there is a heightened sense of sensitivity to what needs to happen today. They developed their brand and said this is what it is and so we believe in it, but today there is more thought process. There's a lot more conversation and discussion about where to go to the next level. 
And I will tell you, post-COVID, speed to market in a brand is much better than it's ever been in my entire career. But I think the brands all have a place. We have both branded and independent hotels, and there's a place for both and there's a traveler that's looking for that independent, authentic experience. They don't need points. They want destination, location and experience and what that activation is going to be versus the brand. The brand comes from a place of a customer knowing what they're going to get when they get to the brand. So, to me, when I look at a hotel and we make the decision of should this be an independent or should this be a brand, we don't paint with a broad brush. We look at the location. We look at the competitive hotels within that location. We look at all the brands and what that brand distribution is to decide where should this hotel sit, and what's the best lane that it can be moving forward? 
So it's never one or the other. There are a few brands that take a lot longer to ramp than others, but in the end, it's a really good collaborative discussion that we have with an ownership group that says here's what we see, here's what we believe you could get from the brand, and then here's what we believe some other different options could be.
HI: What are some recent openings that Crescent has had as well as upcoming ones in the pipeline?
DG: Yeah, we've had a very busy first four months. We started the year taking over the Blossom Hotel Houston which is a four and a half to five star hotel in the heart of Houston close to the medical center. We rebranded and launched 33 Seaport, which is a hotel in New York City in the Seaport area, which is just a beautiful up and coming area and it's just gaining a ton of traction in that area. It was a conversion from a Mr. C Seaport, so same location, completely different brand. We took over The Marker in San Francisco, which is just a great hotel and a great area. The Marker is well known in San Francisco, and we're happy to have done that with our partners. 
We took over the prestigious Colonial Williamsburg Resorts. That really is five hotels, that is the Williamsburg Inn, which is a five star hotel, the Williamsburg Lodge which is a four star Autograph hotel. Then you have the Williams Woodlands, which is another resort, as well as two independent Griffin houses, 28 colonial houses, 20 foot and beverage venues, two golf courses and a spa. That was a big accomplishment. That is just an amazing project for us to work on, as Williamsburg works toward putting themselves on the map in the 250th anniversary of this country which comes in three years. So there's a lot of things that really work together with the Colonial Williamsburg Foundation as we partner to drive success in these assets. So that we're incredibly excited about. 
(In April), we will also take over the Westin Itasca right outside of Chicago. We will take over the Shangri-La Resort, which is a resort outside of Tulsa, Oklahoma. And we are taking over two other hotels right outside St. Paul, Minnesota, a Sheraton and a Hilton. So we're busy and we've got a busy pipeline moving forward, but it's fun. I like to not call them transitions. I like to call them integrations, because the success of what we do has to be how well we can integrate each hotel and each associate into what that culture is that Crescent brings to the table and how do we partner together for the most success of the hotel.
HI: Hearing about your career and the many places that it's taken you, I'd just be curious to hear your perspective on how the landscape for women in leadership has evolved throughout your career.
DG: Hard-fought would be the word that I would use. I will say that we're sitting here in 2023 and I'm happy and proud that it's much better than it was in 1986. Everything I've had to do has been to make sure that I'm at least one to two steps better than my male counterpart to make sure that I get the job,right. There was a time in a previous company where they were opening a new position, and it's interesting because it was me and a good friend of mine, who's still a good friend of mine. We both started the exact same day. We had the exact same background, no difference. The boss opens up the position. I'm interviewed for the position, he interviews for the position, and then he gets the position and I'm happy for him, right? You're always happy when it's given to somebody well, but when I asked "hey, can you let me know what happened here? I'm happy that he got it, you know, it's well deserved, but where was the difference? What was the tipping point for you? Just so I can understand where I need to make sure that I'm shoring up my weaknesses so when we go forward, you never have to ask again or wonder who's going to be ready for that position because it's going to be me and I'll be ready for it." 
There was no answer, right? There was no answer. "You're evenly matched. It was a very hard decision." It was this, it was that. And in the end I think that sometimes, a leadership lesson is knowing who you're working for and knowing, are you the person that's going to continue to drive forward and make a difference when your leader wants status quo. So, if you're a disrupter, you need to be in a place that allows you to be disruptive, because that destructor mentality drives more success. It doesn't maintain status quo. So in the end, what was the difference between us? I wanted things to be better, I challenged things to move forward. When you end up looking back, when you lick your wounds and you say "okay, that's fine, I got it," you begin to understand I'm likely in the wrong company. It kind of gives you that perspective. 
As I've grown in my career and taken on different roles, I've always been one of a very few female leaders. Even when I was a regional (director of sales and marketing) with Starwood, there were more men regionals than women regionals. But I will say that, when I think about what's happened today and what's happened over the last two years, that there's a lot more light that's been shed on it, especially in the hotel business. I today work for a company that, if you can believe it, 60% of the corporate office are female leaders. And they're not female leaders because you had to hire me because I'm a female. You hired me because I was the best person for the job, right? And I would never want to be hired just because I'm female. I want to be hired because you see who the best person for the job is. I don't want a gimme, I don't want somebody to give me something I don't deserve. But I want to make sure that you understand why there's strength in female leadership and why we can move forward. 
So you know, have there been times where I've been paid less than my male counterpart? Absolutely. When do you have those discussions? You have them immediately. Sometimes it matters, sometimes it doesn't. So again, I think that we've opened the door for future discussions on it. We all as women have to champion that. And then, frankly, I've got great male counterparts, too, that have a mother and a wife and daughters, and they want to also make sure that their daughters and their wives are also treated the way that they're treated. So I think it's a great subject that just has to stay top of mind; not only in our industry, look at what's happening in women's soccer, right? It's still a long way to go, but I think that the continued movement of talking about it makes a difference.
HI: I want to dive deeper into that 60% number within Crescent. What does that mean to you to work at a company where that is the case? How does that connect to the overall culture of Crescent?
DG: It means everything to me because you've seen many LinkedIn posts where you have a company, and this company says, "Oh, we are all about diversity, and we're all about equality and everything," and then you look at the first five people on the exec team, and they're all males. So when you live something, when you live in a culture that you support, and the results support it, all it does is fuel better recruitment, better understanding of what we're looking for. It drives people to Crescent because we understand the difference, and because we want to make sure that we make that difference, not just with females, but with everything. 
We actually started last year doing a bi-monthly event, what we called "Courageous Conversations." We would get a panel of five people on a specific subject. It could be five people on the subject of religion … five people on a subject of female leadership, so that we begin to talk about this openly as a company, and then the hotels can follow up and have that same discussion there. Because the more you talk about diversity is the more you open your eyes to something that you can't shut your eyes to again. Opening up to making sure that the corporate office looks like hotels, it's an important goal of ours that we're making sure that that happens.
This interview has been lightly edited for length and clarity.