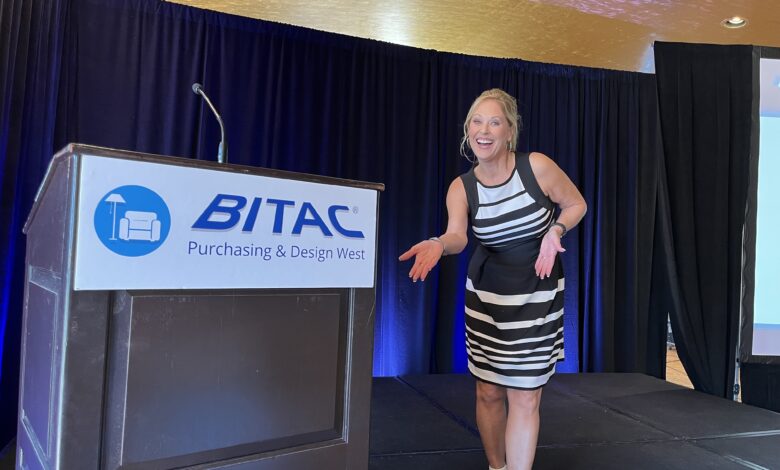 Stories
BITAC Purchasing & Design West Keynote: Streamline into Action
By David Berman | October 23, 2023
Many styles of leaders were in attendance at BITAC Purchasing & Design, taking place from October 22-24 at the Arizona Biltmore in Phoenix. During the first morning of the event on Monday, these hospitality executives experienced a keynote speech that may have changed their view of their own leadership styles.
The session was hosted by Deborah Gardner, a motivational keynote speaker, founder of three businesses and author of six bestsellers. She is a former sports broadcaster for CBS and was named as one of CNN's top 75 keynote speakers worldwide.
Gardner drew on her experience as a swimmer for the vehicle of her speech. She talked about the different kinds of swimming strokes, focusing on a relatively new stroke, the streamline. The idea behind the swimming stroke and the leadership style of the same name is to create the path of least resistance.
"It's about making a decision that empowers you to utilize your knowledge, your skills, your talents, your expertise, and your experience that you already have, and put it into motion," Gardner said.
Gardner said that the purchasing and design space is the backbone of hospitality, adding flavor and style to each property and enhancing the guest experience. Streamlining can be a way for P&D executives to move forward, accomplish their goals and thrive in their pursuits.
In a captivating exercise, Gardner demonstrated how to provide effective communication in today's world. What unfolded right before the attendees was not merely interesting but also profoundly enlightening. The outcome? Each participant offered a unique interpretation of her instructions, leaving them in awe of the remarkable power of clear communication.
Gardner used this exercise to also convey that communication is a two-way street. She acknowledged that her directions could have been clearer, but she pointed out that nobody in the audience asked any questions. 
During her session, Gardner conducted other team-building activities that had attendees share their core strengths with each other. A few attendees then shared their tables' responses with the group.
Gardner ended her 45-minute presentation by encouraging attendees to take the streamline method and incorporate it into their personal and professional lives.
"Let's not squander this precious time we have together," she said. "Let's make it count. Let's take those goals, and let's see which ones come to fruition, as long as you work for it. And definitely, let's show the world what the purchasing and design profession is really all about."