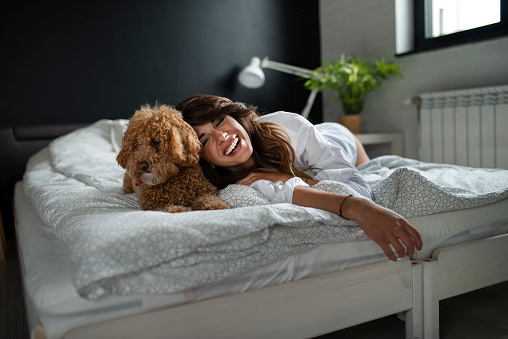 How did you cope with the lockdown? While most of us learned a few new skills, decided to take up baking bread or just binged some mediocre shows on Netflix, a sizeable portion elected to adopt a pet for some additive company around the household.
Despite the sad cases where people give up their pets soon after adoption, the vast majority of owners have fortunately found a new member of the family. This uptick in the number of animals—primarily dogs as it concerns travel implications—means that guests over the next decade will be more inclined to seek out pet-friendly hotels, and this presents a great marketing opportunity if you decide that it's the right direction for your organization.
Pivoting to the demands of pet owners requires many operational changes (and even some guest surcharges) which may include:
Dedicated floors or guest room sections so those with allergies can avoid these areas, requiring a deft hand at allocating inventory in the PMS and with the possibility for a higher ADR room category;
Special cleaning to remove allergens which will require more housekeeping coordination but is something you can bill as an extra expense;
Updated policies for the types of permissible pets, noise, nuisances for other guests, damages, public area pet access and pet-oriented amenities like hydration stations or even agility courses;
Contactless pet service delivery of treats, toys, beds, bowls, bags or other miscellaneous items, all at an additional cost or bundled into a room package;
Established relationships with local groomers and veterinarians;
Doggy daycare services, having onsite groomers or even trainers for younger pups.
This can seem daunting but given the end reward of having a bunch of furry friends around the property, it will be worth it!
As a brief case study, in 2019 while working on an asset management assignment for a 40-room rural resort in British Columbia, we noticed a strong demand for pet-friendly hotels in our territory based on market intelligence and search data as well as a channel analysis for email, voice and social inquiries. From there, it took us roughly three months from an initial discussion on feasibility to having a devoted room category, a firm pet policy and all extra charges for cleaning or treats.
So, do your own channel examination to see if the demand for pet-friendly hotels is trending in your area and all drive-to markets. What does a cursory search of local news outlets reveal about increased pet ownership during the lockdowns last year?
From there, form a team of managers to investigate all requirements then build a plan. Thinking even broader, ask yourself what other pandemic-related trends you can capitalize upon. You'll likely find that there are other opportunities—besides appealing to man's best friend—stemming from pandemic-related behavioral changes.