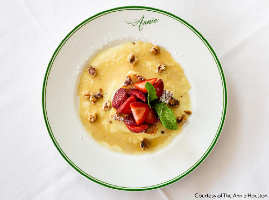 When your guests sit down at the table, make the first impression count. An easy way to show off your brand and story is through presentation, and we don't mean just the food. Every element is important – the food, service, and décor all tell your customers what your restaurant or food service represents.
Chosen dinnerware can make a huge difference in your customer's perception of your establishment. Your logo is a visual element that immediately draws your guest's attention, creating memorable experiences. Whether your patrons realize it or not, with every bite of their food or sip from their glass, your brand becomes more familiar, creating a deeper impact and lasting impression.
Plateware
Chefs and restaurateurs consider plateware the center stage of the table, showcasing the main attraction. It's important to create everlasting impressions with recognizable imagery, so customers are eager to return. Plates are the perfect canvas for your logo, adding a personal touch while enhancing your brand's awareness.
With BauscherHepp, there are endless ways to customize your porcelain plates. Printed decals, aerospraying, hand painting and more — the possibilities are only limited to your imagination.
Flatware
When it comes to flatware, don't forget the details. Stand out from the rest with custom finishes and engraving on your cutlery. Customers will notice your attention to detail, which can speak volumes of your attentiveness to your guests.
Glassware
Elevate your bar service with custom glasses. Adding your logo to glassware not only improves your business's branding but can also double as a pour line. This takes the guesswork out of serving wine and ensures you're never over-pouring and undercharging. Branded glasses also give you an opportunity to sell your glasses to customers, which gives you free advertising and profit.
Another important aspect of customized dinnerware is social media. How often do you see customers whip out their phones to take a photo of their food when it arrives at the table? Set the scene for Instagram-worthy photos that inspire guests to share their experience on social media and give you a little free publicity!
Each BauscherHepp custom plate, glass, or cutlery piece is made-to-order, ensuring your dinnerware is uniquely yours. Custom tableware elevates any dining setting and mixes perfectly with any table setting. Dinnerware and glassware in food service takes a lot more wear and tear than typical residential use. Our plates and glasses are incredibly durable and chip resistant, made to withstand even the busiest of rush hours.