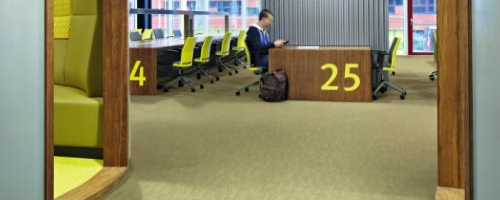 Vendor Press Release
Forbo Flotex; Bionic Flooring Performance Combined with Limitless Colour and Detail
Flotex is a modern high tech floor covering that looks and feels like a carpet without any of the drawbacks of a textile floor covering. At the same time, it performs like a resilient with a durable, velour like surface that is comfortable to walk on, warm underfoot with excellent slip resistant and acoustic properties.
The term bionic performance refers to features and phenomena that can be observed in nature and are translated into man-made products and processes. This transfer of technology from living fauna and flora helps to create optimised and highly efficient products.
Flotex contains a number of bionic features that mimic natural phenomena:
The 80 million fibres per m2 in Flotex provide a slip-resistant surface both in wet and dry conditions, similar to the way the feet of a gecko are made up of thousands of tiny hairs that allow them to climb without slipping.
Flotex fibres are flexible and comfortable underfoot and, just like moss, they always return to their original shape
Bees fly from one flower to the next collecting and releasing pollen when they need to, in the same way that Flotex traps the allergens between the nylon 6.6 fibres until easily releasing them on vacuuming.
Advanced printing technologies used in the production of Flotex replicate the rich, vibrant and precise colourations found in nature
Flotex is available in three collections:
Flotex colour, a collection with three designs which together form a rhapsody of colour across a broad spectrum. Ideal for education, health and age care environments, leisure and commercial spaces
Flotex linear: representing 5 linear ranges in various colourways that complement commercial and educational environments but also deliver playful effects for leisure, hospitality and retail spaces.
Flotex Vision: an overwhelming design bank of over 600 digitally printed designs that suit every taste or requirement, right down to colour on-demand option.
With the link to bionic features Flotex has clearly recognizable unique selling points:
Durable and comfortable
Quiet yet hygienic
Warm while washable
Safe but sound-absorbing
Flotex is a choice, not a compromise
The anti-microbial Sanitized treatment on Flotex ensures consistent protection against bacteria without degeneration through cleaning or vacuuming. It also suppresses the growth of dust mite populations. Therefore Flotex has a positive impact on the lives of allergy sufferers even more as daily vacuuming cleans away twice as many allergens compared to conventional carpets. That is why Flotex carries the British Allergy Foundation seal of approval.