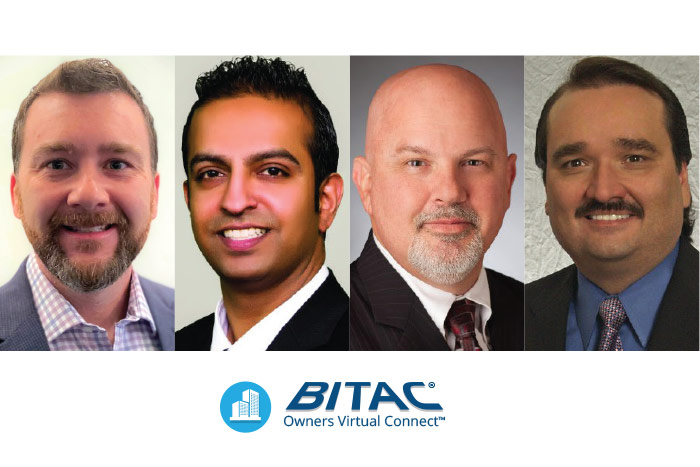 By Dennis Nessler | November 19, 2020
Acknowledging the unprecedented nature of owning and operating hotels during a pandemic, a handful of lodging executives recently addressed some of the top challenges the industry is facing, including lending and labor issues, while urging all brands to 'step up' and help their franchisees for the foreseeable future.
Speaking last week during BITAC Owner's Virtual Connect 2020, the panelists weighed in on the aforementioned topics and several others in a panel entitled "Owner's Outlook: Assessing The Lodging Landscape Heading Into 2021."
While asserting that some brands have "stepped up" during the pandemic, Biran Patel—Chairman of AAHOA and a partner with BHP Investment Company—also insisted that other brands "could have stepped up and done more."
Patel cited the elimination of breakfast programs as a prime example of necessary measures taken by the major brands, but he went on to express concern about how they might handle things going forward.
"The minute this vaccine starts trending in the positive direction the brands are going to try reverting to their pre-COVID standards and some of us owners aren't ready for that yet. The occupancy depending on where your hotel is and the segment that you're in might be okay, but ADR [average daily rate] has taken a major hit. We're probably back to 2005 ADR levels so how can we sustain the costs that we're going to incur with some of the standards that the brands had pre-COVID?" he said.
Robert Smith, CFO, Crescent Hotels & Resorts, a Fairfax, VA-based third-party management firm with more than 90 hotels in is portfolio, had the same concern.
"We're going to see them go back to where they want to be. There's been a lot of pressure on the brands from every owner and from every management company about relaxing those standards and saying 'you can't expect owners to handle the same costs.' Right now everything's down and that means it's going to affect all the brands as well," he noted.
Smith further added, "kudos to the ones that really stepped up quickly, but every owner is looking for the brands to sit tight. If there was a vaccine tomorrow don't try and turn the faucet back on tomorrow and say 'we're going back to square one.'"
Meanwhile, labor remains a key concern going forward for the entire industry. Rick Tomljenovic, Principal & COO, Tristar Hotel Group, a Scottsdale, AZ-based management, development and consulting firm, called attention to the issue.
"One thing that we have to come to grips with is we were dealing with a labor shortage pre-COVID, particularly in a lot of positions. We laid off a lot of people in the industry because of need and a lot of those people are starting to transition careers. Then we're asking our middle managers to work triple-hatted jobs that require multiple skills…When we do rehire we're going to have a hard time finding more talent," he said.
Chris Harlow, vp, development, True North Hotel Group, an Overland Park, KS-based management firm with roughly 30 properties, reinforced the point. "Before COVID we battled workforce problems because of low unemployment rates, which was a great thing but at the same time finding good help was hard to come by. Now post-COVID we're battling a lack of people ready to either jump back into the workforce or they have decided that 'enough is enough' and they want to move on to a different career path that's outside of hospitality," he said.
One of the major issues within hospitality is hoteliers being able to make their debt payments amid declining profitability and the ability of lenders to work with them to come up with a viable solution.
"I do think that we're going to see quite a bit of foreclosures. When this thing first started I think there was a lot of thought from the lenders perspective of assisting their clients, but as it has extended longer than expected now I think you're seeing some pull back on that. One of the things that we're talking about is additional stimulus because these properties and these owners need something to happen and they need something to happen quick," said Smith.
Tomljenovic reinforced the point.
"I think the CMBS market is the one that really scares me the most because with the PPP loan stimulus packages most of those loans are structured in such a way that you can't take on additional debt. In addition, when you're talking about a CMBS loan outside of a special servicer who do you go meet with? There's really not one deciding authority and the special servicer's hands are kind of tied," he said.
In contrast, Tomljenovic touted traditional one-off or smaller lenders while providing a dose of reality. "They've shown a great desire to work with [owners] on some interest only and some forbearance, but forbearance doesn't mean they forgive it that just means they delay it," he asserted.
Finally, as 2021 approaches forecasting and budgeting remains very much a question mark in the wake of dramatically reduced performance in 2020. The panelists shared their respective approaches and expectations.
"I will tell you that we have taken a whole different look at budgeting this year. I keep telling people we're reading a book that hasn't been written yet. We're stepping out by actually looking at a lot of different metrics for each hotel. It is the first time in my career that I can't look at some sort of history. I never thought I would be able to tell operations people 'throw out the budgeting guidelines and let's look at it differently,'" said Smith.
Harlow also acknowledged the difficulties while explaining True North's strategy. "We've taken more of a quarterly approach this year. I mean it's impossible. I don't think any of us have that crystal ball, but at the same time you got to put something on paper. Hopefully as we get into the third and fourth quarter [2021] we get back to a little bit of normalcy. That's kind of the way we've looked at it so far. I don't know if anybody has the right answer, but I think we're all trying to just drive forward," said Harlow.
Patel, meanwhile, asserted that much of the outlook for the industry depends on the virus. "To get to pre-COVID numbers I don't see that until at least 2022. But to see the upward trajectory to at least be manageable, it's probably third or fourth quarter of next year. But the first two quarters are going to be interesting," he said.