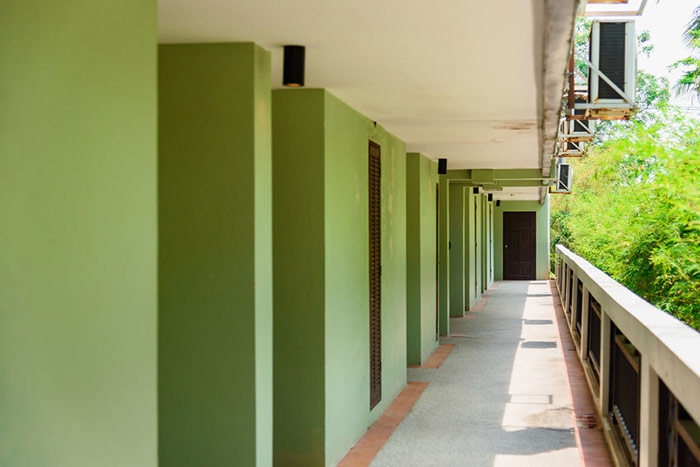 Stories
Exterior Corridor Comeback?
By Dennis Nessler | July 23, 2020
Once considered to be an outdated concept and very much on their way out, exterior corridor hotels are poised to make a comeback within the lodging industry as many travelers show a clear bias toward outdoor spaces and minimal interaction with staff as well as other guests.
Safety has long been the primary concern for many in the industry when it comes to exterior corridor properties, which typically provide access to rooms from outside the building. However, the recent COVID-19 pandemic has today's guests looking to bypass the front desk and avoid indoor spaces altogether as part of an effort to take social distancing to another level.
Several prominent hotel executives recently weighed in on the changing hotel landscape in the wake of the pandemic and how these types of properties might ultimately benefit.
John Russell, CEO, RLHC, weighed in during the ALIS Summer Update in Nashville last week. "I think the exterior corridor hotels will do quite well in this environment where you can drive up, pull up and go right to your room. Maybe you can check in on your phone," he said.
Russell also commented during an earlier interview with Hotel Interactive in June. "The exterior corridor hotels that everybody used to disrespect and say 'they're going to go out of the systems' now they're going to be the most popular places to stay. It's going to be great for families and seniors," he said.
In 2017, RLHC introduced its Signature Inn brand, an upper-economy lifestyle brand aimed at converting many exterior corridor properties in vibrant communities.
Russell further discussed some hotel trends he sees as a result of COVID-19."I think there's going to be greater use of outdoor spaces. Hotels that have the space will do things outside in the courtyards and bring food, beverages and meetings outside," he said.
Meanwhile, during a development panel earlier this week at the ALIS Summer Update – Dallas, moderator Raj Trivedi, managing principal, TST Capital, wondered aloud "with this pandemic in mind will exterior corridor catch up versus interior corridor because it's safe to go in and out of your room?"
Chip Ohlsson, EVP and chief development officer, Wyndham Hotel Group, addressed the increased momentum for the exterior corridor product type and cautioned against generalizing these hotels.
"A lot of them have never gone away and I think people hear exterior corridor and they have a certain image. There are hotels like the Phoenician that are exterior corridor and I think we'd all be happy to stay there. There's always that group of people that like driving up and walking to their room. The question is how do you make that experience safer and better for those individuals?" he said.
Ohlsson emphasized the importance of making sure they work operationally as well. "Can I do mobile check-in where I can still walk in? There are also some issues where you want to be able to know what's going on in the room, and you want to be able to check to see who's there or how long they've been there. You're not going into the room as much for hotel cleaning perhaps, but I want to be able get behind that door though to make sure the guests are safe and everything is working. You've got to balance all of that," he said.
Ohlsson did note he didn't this product type as being ideal for future development. "From a construction standpoint I don't think people are going to go out and build exterior corridor hotels. I think the ones that are out there may do some renovations and upgrade where they are with it, but I still think still you're going to see some interior corridor hotels," he said.
Meanwhile, Focus Hospitality Management just last week opened The Tuxon, an exterior corridor boutique hotel in Tucson, AZ, which is part of Marriott International's Design Hotels collection.
Bryan Tubaugh, SVP, Focus Hospitality Management, had some thoughts on the topic. "Exterior corridors provide guests with a sense of control during these challenging times. At The Tuxon, you can check in via your mobile device, drive right up to your door and order food from the same mobile device you used to check in with once you're in your room and ready to eat, all of which limits touching/talking points. Additionally, The Tuxon's state-of-the-art gates, which can only be controlled by the front desk or a room key, helps limit the number of people allowed on the property," he said.