Seattle — The "New World, New Employee Safety Culture" webcast series is LIVE! Hosted by React Mobile CEO Rob Monkman, the fast-paced online resource provides answers to some of hoteliers' most pressing questions about employee safety post-pandemic and amidst civil unrest. Questions posed include: What does the new employee safety culture look like today as we roll into recovery? How is technology helping to define hospitality's new normal post-pandemic? Which contactless technologies are being implemented to protect front-line workers? What can technologists do to help hoteliers implement new operating procedures? Why is it critical that hoteliers engage NOW with employee safety devices vs. 2021?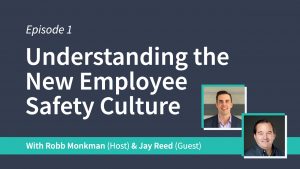 Hoteliers can listen at their leisure to the 15-minute webcast by clicking here.
Episode One: "Understanding the New Employee Safety Culture"
Jay Reed of CIO Suite and former tech head of Aimbridge Hospitality, Omni Hotels & Resorts, Pillar Hotels & Resorts, Trammell Crow Residential, and Wyndham International, kicks off the informational series today by defining the new employee safety culture and explaining how building employee confidence via technology  ̶  from contactless payments, mobile check-in, and mobile keys to digital guest entertainment, touchless room controls, and digital two-way messaging  ̶  will help bring travelers back as it minimizes human interaction.
"Trying to get employees back to work with all the great government programs out there today is definitely a challenge," Reed says "Factor in the medical concerns and recent protests and there are a lot of deterrents. However, with employee safety devices a requirement by most hotel chains, and temperature checks, mask mandates, cleaning technologies, and safety training now part of onboarding, operators are building employee confidence in returning.
"Initially, I believe housekeeping will become more of a 'per stay vs. per day' service to further reduce staff and guest interaction," he adds. "When contact cannot be avoided, it's the hotels that already have employee alert devices in place to dispatch help if there is sexual harassment, a medical issue, or other physical threat that will be most successful in their reopening efforts. Even though there are cash issues at the hotels today due to the pandemic, lower occupancy and supplier funding programs are making it easier and quicker for operators to roll out these devices. The economic struggle is real, but the bottom line is adding employee safety devices NOW is simply the right thing to do."
Episode Two: "Hawaii Hotels Say 'Aloha' to Safety"
Next week Monkman will chat with Ryan Doi, Corporate Director of Information Systems for Prince Resorts Hawaii  ̶  the first hotel company to implement employee safety devices in the island state. In this episode, Doi, a Hawaii Lodging & Tourism Assn. board member, will discuss new quarantine and reopening policies and explain how the recent spike in COVID cases on the mainland has operators bracing for travel delays. Whether hotels open as planned August 1st or push back another 30 days, operators have taken the necessary safety precautions and implemented the in-demand contactless technologies needed to protect their people "if and when" travel resumes.
To learn more about the React Mobile Webcast Series, click here or visit www.reactmobile.com/webcasts.
About React Mobile
Founded in 2013, React Mobile is a global leader in providing panic button solutions for hotels. Our best in class hospitality safety platform helps hotels keep their employees safe. The React Mobile system is an open and flexible platform that allows management to deploy response resources to the exact location of an emergency within seconds of an alert, getting help to where it's needed anywhere on or off property. In an emergency quick response times are essential and React Mobile gives you the tools to react fast. For more information, visit www.reactmobile.com.